This Muslim Man Saved Hostages' Lives During the Paris Kosher Market Siege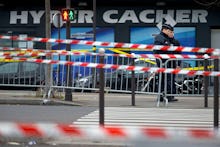 Amedy Coulibaly killed four people inside a kosher grocery store in the Porte de Vincennes neighborhood in Paris. If it weren't for the actions of market employee Lassana Bathily, that number may have been a lot higher.
Bathily, a 24-year-old Malian Muslim, was working in the store when Coulibaly entered and began firing. In the ensuing panic, six customers rushed into the market's basement to avoid the gunfire — and then Bathily had an idea. "When they ran down, I opened the door [to the freezer]," he told BFMTV. Shutting off the freezer and turning off the lights, Bathily told the customers: "Stay calm here. I'm going out."
According to Le Parisien, the crowd included a 1-month-old infant. "We'll open a bottle of wine. Here, there are plenty," one of the six people joked, according to Bathily. Making calls from the freezer, the hidden hostages were able to keep authorities informed on the siege. When it was over, they thanked Bathily: "They congratulated me," he said.
Tales of Bathily's bravery have exploded on social media:
Bathily's heroics are an inspiration: Along with the sacrifice of Muslim police officer Ahmed Merabet, who was killed in the assault on the offices of Parisian satirical magazine Charlie Hebdo, Bathily has proved that the Islamophobic backlash against France's Muslims could not be more misplaced. Although France's anti-immigrant Front National party has been bolstered by the attacks, it's important to remember that if anti-Muslim, anti-immigrant foes had their way, Bathily would never have been in the market in the first place — and many more lives may have been lost.
h/t BuzzFeed