These Women Just Showed Bill Cosby That His Rape Allegations Are No Laughing Matter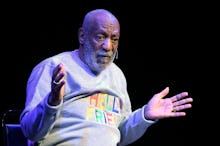 Bill Cosby's rape allegations are nothing to joke about.
Cosby was about half an hour into his final set at Ontario's Hamilton Place Theatre when about 30 people stood up and chanted "we believe the women," the New York Daily News reports. The hecklers shouted and blew rape whistles as security ushered them out of the theater while some 150 protesters stood outside the and waved signs criticizing Cosby.
The protests came one day after Cosby referenced the fresh rape allegations that he's facing from dozens of women. According to National Post report Richard Warnica, who was present at the show, Cosby told a woman getting up for a drink that "you have to be careful about drinking around me."
According to the National Post, two men were thrown out from the half-full auditorium for shouting at Cosby after his joke. As one he was taken by security, he yelled, "You are a rapist. I'm being ejected because you are a rapist."
While Cosby's Canadian tour may be over, the comedian has a slate of upcoming shows in the United States — though a number of other planned shows have been canceled.