The Sony Hack Just Got Charlize Theron a $10 Million Raise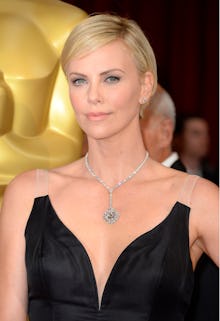 Charlize Theron knows how to play hardball.
After the hacking of Sony Pictures Entertainment revealed the startling gap in pay for Hollywood starlets compared to their male counterparts, the South African actress is using the data cache as tool to rectify it. According to Page Six, Theron insisted that she be paid the same salary as co-star Chris Hemsworth for her work in The Huntsman, the prequel to 2012's Snow White & The Huntsman.
According to Page Six's unnamed "Hollywood sources," the gambit paid off big: Her agents at WME were able to bump up her salary by $10 million. "Charlize insisted that she get paid the same money as Chris. She has a great track record, so she got the same deal," said one source, who clearly missed the reviews for Snow White & The Huntsman. Another added: "One knock-on effect from the Sony hacking scandal is that there will be more sensitivity about equal pay for actresses and hiring practices at movie studios."
She's hopefully the first of many: Hacked Sony ­emails revealed that the female stars of "American Hustle," including Jennifer Lawrence and Amy Adams, earned only 7 percent of the film's profits compared to their male co-stars' 9 percent, a Hollywood version of a wage gap Americans are more than familiar with. According to the U.S. Census Bureau, the average American woman earn only 77 cents to a man's dollar, and the disparity is even greater for women of color.
Theron's "Evil Queen" character was the only high point in the hot Disney mess that was Snow White & The Huntsman, and now that marble-mouthed vampirebait Kristen Stewart is officially off the project for... obvious reasons, her battle for equal pay is good training to play an empowered woman willing to do anything to get what she deserves.
Boom.