19 Photos of the Massive Marches Happening in Paris Right Now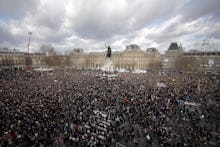 Hundreds of thousands of French people and concerned activists rallied Sunday in Paris to honor the memory of 17 people killed in a series of mass shootings and hostage incidents in the city since the new year. The Associated Press reports that the march has officially become the largest demonstration in French history. 
After militants believed to be associated with radical Islamist groups stormed the offices of satirical newspaper Charlie Hebdo, killing 12 on Wednesday, the subsequent manhunt resulted in the deaths of four civilians and three gunmen. Many Muslims condemned the attacks, while others decried the massacre as an assault on liberal values.
The New York Times reports that French Prime Minister Manuel Valls announced Saturday that the country had now declared "a war against terrorism, against jihadism, against radical Islam, against everything that is aimed at breaking fraternity, freedom, solidarity." According to the Wall Street Journal, throngs of protesters Sunday were joined by about "40 heads of state and government," including German Chancellor Angela Merkel, U.K. Prime Minister David Cameron and Israeli Prime Minister Benjamin Netanyahu.
"Today, Paris is capital of the world," President François Hollande reportedly told members of his cabinet ahead of the march, reports the Journal. "The whole country will stand up."
By some estimates, there was up to 1 million demonstrators. Take a look at these photos showing just how big the public support for Charlie Hebdo and the other victims of extremist violence was this weekend in Paris.