Here's Your First Extended Look at the Long-Awaited 'Better Call Saul'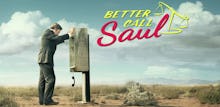 Nearly two years since we last saw him in the final season of the hit series Breaking Bad, we're about to get another chance to follow the hilarious and possibly pseudo-legal antics of everyone's favorite personal injury and anything-you-pay-him-enough-for lawyer, Saul Goodman.
Played by Bob Odenkirk, Goodman was one of the most popular and longest lasting characters on Breaking Bad. Shortly after the show ended in September 2013, rumors of a spin-off began floating around, and it didn't take long before a fully fledged Goodman-centric series was born in the form of Better Call Saul. A few sneak peeks have already been making the rounds, but AMC has finally released the first extended look at the upcoming series. 
Take a look:
The series is set in 2002, six years before Goodman's first appearance in the Breaking Bad storyline. While neither Bryan Cranston (Walter White) nor Aaron Paul (Jesse Pinkman) have been confirmed to appear in the series, Vince Gilligan, the creator of both Breaking Bad and Better Call Saul, confirmed that events in the television show will take place before, during and even after the events of Breaking Bad. This will likely be accomplished in a number of ways, including utilizing the time-cut style Breaking Bad was known for. Additionally, Jonathan Banks will be returning as Mike Ehrmantraut, Goodman's private investigator and all-around badass. 
Watch out for Better Call Saul on the show's two-night premiere Sunday, Feb. 8, and Monday, Feb. 9, both at 10 p.m.