Brilliant Human Rights Lawyer Amal Clooney Is the Real Star of the Golden Globes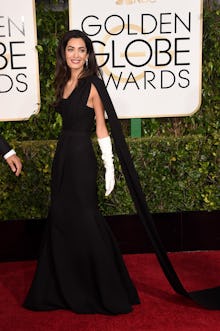 The real star on the red carpet tonight didn't even appear onscreen.
Amal Clooney — internationally renowned human rights lawyer, activist and all around badass — arrived at the Golden Globes tonight with her husband, who is apparently set to receive an award. 
However, it was all but guaranteed that Amal would overshadow her famous husband: As Amanda Rose wrote for Business Woman Media when the two were married: "Amal Alamuddin, a London-based dual-qualified English barrister and New York litigation attorney who has long been a high-profile figure in international refugee and human rights law, has gone against the trend for professional women in her field and married an actor."
Despite the influx of celebrities at the award show, everyone appeared to be most excited for Amal's arrival, which she declared in memorable fashion: wearing white elbow-length gloves and almost 30 carats draped from her ears. She also paid tribute to the victims of last week's terrorist attack in Paris, with a #JeSuisCharlie button pinned to her clutch.
Despite the fact that Golden Globes and other awards shows are normally the province of husband George, Twitter users fawned over Amal: 
Not everyone got the message, though. Us Weekly missed the memo:
But the worst reaction to Amal and George's arrival came from Ryan Seacrest and the rest of the E! crew, who presented the twosome with a "wedding gift" — a T-shirt with the words "Game Over" below a bride and groom: 
Try again next year, Seacrest.