Tina Fey and Amy Poehler Take On the Bill Cosby Rape Allegations at the Golden Globes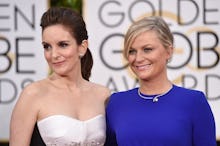 If you thought Tina Fey and Amy Poehler were going to ignore one of the most important Hollywood stories of the year while hosting the Golden Globes, you don't know Tina Fey and Amy Poehler.
Only minutes into their hilarious opening set — and after delivering a few pointed barbs about sexism on the silver screen and the entertainment industry's bullshit priorities — Fey and Poehler turned their attention to Bill Cosby, one of Hollywood's most enduring stars and the accused rapist of more than two dozen women.
It started while the two were riffing on the plot of the film adaptation of Stephen Sondheim's Into the Woods: "Cinderella ran away from her prince, Rapunzel was thrown from a tower by her prince... and Sleeping Beauty just thought she was getting coffee with Bill Cosby."
The clutching hands of dozens of starlets were still shattering pearl necklaces to dust when the duo went for broke. Fey, reminding the audience that Cosby had finally spoken out about the rape allegations for the first time, affected a Huxtable-esque accent and announced, "I PUT THE PILLS IN THE PEOPLE."
Poehler corrected Fey's characterization — by improving on the impression.
The look on Jessica Chastain's face says it all:
Finally. After two hours of watching Giuliana Rancic and Ryan Seacrest grill Golden Globe attendees about their hair, makeup and manicures on the red carpet, Americans had almost been lulled into a stupor deep enough to erase from their minds that one of the most famous and (formerly) respected men in Hollywood had been accused of drugging and raping dozens of women in incidents spanning decades. If a night when the biggest stars, producers, directors and studio chiefs in the film and television industries are gathered in a single room isn't the right forum for addressing those horrific allegations, no occasion is.
That Fey and Poehler were able to address the allegations humorously — on the very network that Cosby once reigned over — without denigrating his alleged victims or their experiences shows that the world's greatest comic duo is able to punch up with their comedy.