Everyone Needs to Hear 'Transparent' Creator's Poignant Golden Globes Acceptance Speech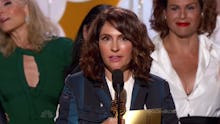 Transparent's win for "Best TV Comedy or Musical" at the Golden Globes was accompanied by an even bigger moment for the LGBT Americans: A powerful opportunity for trans visibility in pop culture. 
The Amazon-produced show's win was a historic moment, as the first time a digital network has won a major award. (Jeffrey Tambor also won an award for "Best Actor in a Comedy or Musical" for his portrayal of trans woman Maura Jeffrey in Transparent.) The series' shining moment at the awards ceremony, however, was creator and executive producer Jill Soloway's acceptance speech.
Source: Instagram
Members of the LGBT community took to Twitter to celebrate both the show's victory and Soloway's speech: 
Just over an hour in, the tenor of the Golden Globes was already reverberating throughout the world. Awards shows are arguably shallow and self-serving, but with the victories of Selma, Transparent and others, this year's Golden Globes is sending a powerful message:
Here's the full speech: