Watch Maggie Gyllenhaal's Powerful Feminist Acceptance Speech at the Golden Globes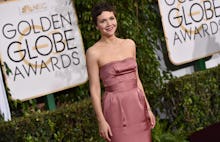 Maggie Gyllenhaal just gave one of the most feminist speeches in Golden Globes history.
After winning an award for Best Actress in a Mini-Series for her role in The Honorable Woman, Gyllenhaal used her acceptance speech to highlight Hollwood's newfound ability to simultaneously represent more women and celebrate their complexity. 
As Gyllenhaal noted, it's not enough to just have more movies about women; Hollywood needs to make room for stories about "women who are sometimes powerful and sometimes not, sometimes sexy, sometimes not, sometimes honorable, sometimes not."
"What I think is new is the roles for actual women in television and film," she said. "That's what I think is revolutionary and evolutionary— and it's turning me on."
Her comments echo those made by Natalie Portman in 2013 in Elle magazine, when she talked about the problem with generic strong female characters. "The fallacy in Hollywood is that if you're making a 'feminist' story, the woman kicks ass and wins," she said. "That's not feminist, that's macho. A movie about a weak, vulnerable woman can be feminist if it shows a real person that we can empathize with." Those roles are still rare, especially for women who aren't white.
The good news is that Hollywood is getting better. In fact, the tone of Gyllenhaal's speech was both optimistic and hopeful. And although Gyllenhaal focused her speech on women, she also gracefully thanked her husband for valuing and celebrating all women. 
Cheers to that. Let's hope Hollywood can take a cue from Gyllenhaal and keep producing media that reflects the complexity of modern women.