The Biggest Lesson From This Year's Golden Globes: Women's Stories Matter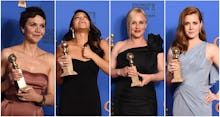 Women are raising their voices across America — and Hollywood is finally beginning to listen.
That was the big takeaway of this year's Golden Globes, where women, both onscreen and off, reigned supreme. From Amy Adams' speech about female allies to Maggie Gyllenhaal's assertion that women deserve complex roles with nuance and value, Sunday night's show was all about the stories of women and the varied ways we can tell them. 
In an industry still run predominantly by men, it was a huge victory to see one of Hollywood's biggest nights dominated by the women who make the engine run. 
Below are just some of the important messages heard by millions of viewers on Sunday night:
Patricia Arquette highlighted the unseen struggles of single moms.
During her speech after winning for Boyhood, Arquette referenced her early years as a single mom, thanking her "friends who watched my kids while I was trying to build a career as a 20-year-old single mother." For women everywhere, Arquette's acknowledgement of the struggles of working women, particularly those without the support of partners, was an important, all too rare moment.
Gina Rodriguez gave a voice to young Latina women.
For an actress who has said she only takes roles where Latina women are portrayed positively and with nuance, Gina Rodriguez scored a big win for an underrepresented group with her Best Performance in a Television Series award for Jane the Virgin. 
"This award is so much more than myself. It represents a culture that wants to see themselves as heroes," Rodriguez said, signaling an achievement for yet one more important group of viewers who rarely see themselves portrayed proudly onscreen — and now can.
Transparent celebrated an important portrayal of trans women.
Jeffrey Tambor won for his role as Maura Pfefferman, a transgender woman, in Transparent, and the show won the Golden Globe for Best TV Comedy or Musical. During his acceptance speech, Tambor noted that his win was "much bigger than me." These wins raised the visibility for the trans community, but also women in general, a major step forward for Hollywood. 
Amy Adams reminded us that women need allies.
Amy Adams accepted her Big Eyes award by recognizing that for women to have their voices heard, it not only takes speaking up — it takes supportive people around them to not shut them down. "I'm lucky because I get to stand here tonight with a man who stands beside me, Darren, who would never silence my voice," Adams said, adding, "It's just so wonderful that women today have such a strong voice." For women to be heard, everyone, not only other women, needs to stand by, listen and support.
Joanne Froggatt shined a light on the victims of rape. 
In season four of Downton Abbey, Froggatt's character Anna Bates was raped by the character Mr. Green. In her acceptance speech, Froggatt described how she had received multiple letters from rape survivors after the scene aired. She specifically cited a woman who said she wasn't sure why she had written, but that she wanted to be heard. "I heard you," Froggatt said, adding that now the world had too. 
Amy Poehler and Tina Fey didn't shy away from calling out Bill Cosby.
Fey and Poehler's opening set was a thing of beauty, but things got real when they started referencing the rape allegations against Bill Cosby. As Janet Mock pointed out on Twitter, rape is never funny — but that wasn't the intention. Fey and Poehler were publicly challenging a powerful man, and in doing so giving voices to victims of rape everywhere.
With one quote, Lily Tomlin eviscerated that pesky adage that women aren't funny: "Finally, we can put aside that negative stereotype that men aren't funny!" By satirically placing men in a space usually reserved for women, Tomlin and Fonda proved, on an international stage, just how ridiculous the claim is. 
Maggie Gyllenhaal asserted women's right to be complicated, flawed individuals.
"I've noticed a lot of people talking about the wealth of roles for powerful women in television lately," The Honorable Woman's Maggie Gyllenhaal said in her acceptance speech for Best Actress in a Mini-Series or TV, "[but] what I see actually is women who are sometimes powerful and sometimes not; sometimes sexy, sometimes not, sometimes honorable, sometimes not. What I think is new is the wealth of roles for actual  women in television and film. That's what I think is revolutionary and evolutionary and it's what's turning me on." 
In a society that ignores less-than-gorgeous women, stigmatizes angry women and overlooks women who've accomplished anything less than perfection, asserting the worth and value of all women is crucial. Women with flaws aren't failures — they're human.
The Cut summed up the night perfectly: 
h/t HuffPost Women for the inspiration