The Truly Moving Charlie Hebdo Tribute That Proves Music Really Can Change the World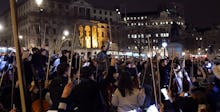 In the aftermath of the Charlie Hebdo attacks in Paris, the media has been filled with touching tributes. One especially moving tribute, though, has been largely overlooked: The day after the attacks, more than 150 London musicians gathered to announce "Je Suis Charlie," but with bows instead of tweets. 
Arranging themselves in London's famous Trafalgar Square before a rapt crowd of 1,000, the musicians delivered one of the most beautiful tributes to the victims of the terrorist incidents that resulted in the death of 17 people in France last week: Samuel Barber's "Adagio for Strings."
"The idea came the morning after the attacks," string musician Vanessa Lucas-Smith told Mic in an email. "Music is what I know best."
As pen- and placard-wielding supporters flooded the streets of France, she took to social media with an announcement and little else. The group wanted to play at the Church of St. Martin-in-the-Fields, but when they didn't hear back in time, they improvised. It worked in their favor — they played outside, and they attracted a massive crowd.
"I wasn't expecting anywhere near those numbers," Lucas-Smith said. "It was an act of remembrance, first and foremost. Out of sadness. Music is an incredible, powerful tool in bringing people together."
Before the performance began at 10 p.m., there was a minute of silence, followed by a moment when onlookers held up pens and signs declaring "Nous Sommes Charlie," and musicians held up their bows. Ben Hancox, a London-based violinist who was at the event, says it was quiet and peaceful. 
"Barber's 'Adagio' is a very contemplative movement, so it allows space for reflection, but it also is undeniably deeply sad," he told Mic. "There's something incredibly moving and poignant about that piece of music."
This isn't the first time the song has played a key role in a tragic moment. Barber wrote "Adagio" in 1938; it has since become an international symbol of resilience through tragedy. The piece has been used in movies like Platoon and Elephant Man. David Lynch, who directed the latter, told NPR, "That piece of music is so beautiful, I'm surprised that it's not in almost every film." 
The music was also played at the funerals of Albert Einstein, Franklin Roosevelt and John F. Kennedy. "Adagio" is widely accepted by classical musicians as the "official music of mourning."
"I think music is a language that can be used most effectively when there are no words to describe what people are feeling," Hancox said. "I think that really reminds us how music is so powerful. When you are standing up, playing in front of a crowd like that, you really feel that music is something that people need all the time, but particularly at times like this."
There's no sense to be made of such a tragedy, but these musicians found the note that Europe needed — one they've needed before; one they'll need again.