The 'Wicked' Movie Is Finally on Its Way — But These 9 Musicals Should Hit Theaters First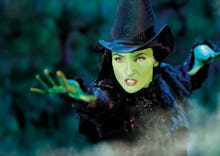 Any theater nerd will tell you we're living in a new golden age of the movie musical. Starting with 2002's Chicago and continuing through last month's Into the Woods, Broadway on the big screen has once again become a beloved genre for audiences and award-show voters. 
It should come as no surprise, then, that one of the biggest Broadway shows in recent years, Wicked, is making its slow march to theaters. In an interview with Film Divider, producer Marc Platt let slip that a movie version of the show could be in theaters by 2016. Winnie Holzman (My So-Called Life, the original Wicked musical's book) is currently writing the script and Stephen Daldry (Billy Elliot) may direct, but Platt warns that nothing is set in stone.
Wicked is a fine musical. It uses Stephen Schwartz's powerful music to cleverly tell the backstory of the witches of Oz. It's a mega-musical in the truest sense, but boils down to "be yourself and love your friends." That's about where its merits end. Its Wizard of Oz connection and loyal legion of fans will surely make Wicked a hit when it ends up in theaters, but will it matter a few months after its release? Probably not. 
Before Hollywood goes and pours its cash into Elphaba and Glinda, it might want to consider these nine shows, which would not only make way better movies, but way more important ones.
The Book of Mormon
After Wicked, The Book of Mormon might just be the biggest Broadway blockbuster of the new millennium. The Trey Parker, Matt Stone and Robert Lopez collaboration won nine Tony awards and continues to play sold-out houses at New York's Eugene O'Neill Theater, in London and around the world. It turned Andrew Rannells and Josh Gad into bonafide stars and put the South Park duo in sight of an EGOT. 
This praise is not without merit: Despite coming from the twisted minds that gave us a dancing piece of Christmas poop, it really is that good, musically and comedically. The Book of Mormon's take on religion and Africa though the age-old practice of extreme exaggeration is incredibly thought-provoking — and inevitably hopeful. In a time when the facile poop-and-dick jokes of The Interview is the best satire Hollywood can do, we desperately need Parker and Stone to storm back into theaters with their razor-sharp wit and hold a mirror to society. 
Avenue Q
Did you know that Wicked didn't actually win the 2004 Tony for Best Musical? Avenue Q did. Like Robert Lopez's aforementioned co-creation, Avenue Q is sidesplittingly funny but includes some of Broadway's best-written music in recent years. With songs like "Everyone's a Little Bit Racist" and "The Internet Is for Porn," it would be a gamble for a major studio, but it's not like there isn't precedent. 
Besides those two important lessons, Avenue Q is really about finding yourself in the real world and making the most of your life. It never shies away from issues of race, sexuality and inequality. It's actually pretty heady for a puppet show. Putting all that aside, becoming a movie could just improve on the source material: Onscreen, the creators will have the opportunity to fully immerse us in the Sesame Street-on-acid world without the distraction of puppeteers visible on stage.
In the Heights
In the Heights may be the most thoroughly modern musical on this list. Lin-Manuel Miranda's opus took Best Musical in 2008, but its infusion of hip-hop, rap and Latin music is what makes it so special. For the first time, these disparate genres blended seamlessly with the world of musical theater, creating a sound that was finally of this era. Miranda used his score to tell a story about the Hispanic neighborhood of Washington Heights, New York, and the working-class dreams of striking it big and moving out. At the movies, like Broadway, representation matters — and there would be no faster way to showcase this authentic, diverse culture than by bringing it to the screen.
Spring Awakening
A rock musical about German teens in the late 1800s learning about sex and the tragedies of life doesn't sound like the most appealing movie. In fact, if it were to become a movie, it would probably have to be an indie film. But it's for these reasons, and the fact that it has one of the best scores in modern musical theater, it should make the leap to the screen. The themes of young love, loss and confusion absolutely still resonate today — and they're even more poignant when told through Duncan Sheik's transcendent music. Almost every member of the original cast (Lea Michele, Jonathan Groff, John Gallagher Jr., Skylar Astin) has gone on to huge things, which only reinforces the power of the material that launched them.
American Idiot
Aside from maybe The Book of Mormon, American Idiot likely stands the best chance of commercial success as a movie. It has the built-in audience of Green Day's fan base, but also a lot of recognizable radio hits. The most impressive part of American Idiot is how it manages to tell a coherent, invigorating story with Green Day's concept album. 
The story takes place during the doldrums of the George W. Bush administration, but its themes of independence and dreams in the face of reality and responsibility will resonate with virtually any millennial today — not too mention the storylines about drug abuse, war and, er, accidental parenthood. Tom Hanks' production company Playtone actually owns the rights to American Idiot, so this could become a movie sooner rather than later.
Fela!
The electrifying musical biography of Fela Kuti never made a huge splash on Broadway, but its story holds a special resonance in the world today, and deserves to be told on a large scale. The show tells the story of Kuti's life, how he created Afrobeat music and used it against the military regimes of Nigeria. It tackles his triumphs, failures, arrests and tragedies all through his incredible music. While modern audiences might be somewhat familiar with his songs, a movie could bring Kuti's struggle to so many who desperately need to hear about it. In a time when black voices are speaking out against the frustrations of the modern American police state, the lessons of Fela Kuti could not be more meaningful.
Next to Normal
Written by Brian Yorkey and Tom Kitt, Next to Normal is a rock musical drama about a family dealing with loss, suicide, drug abuse and mental illness. It's also the first musical to win the Pulitzer since Rent in 1996. When the show burst onto the scene in 2009, it changed what mainstream musicals could tackle. The Pulitzer Board called it "a powerful rock musical that grapples with mental illness in a suburban family and expands the scope of subject matter for musicals." The show's family setting is instantly relatable, the characters, though few, are endlessly identifiable — and though the themes and the construct may seem familiar, the score is anything but. It brings a supremely fresh sound that borrows from pop and rock in all the right ways. 
Urinetown
This gut-busting satirical musical from 2001 may be relatively obscure, but its Tonys for Best Score and Book show that's nothing to write off. The show tells the story of a dystopian future where one must pay to use the bathroom, pitting the evil conglomerate controlling the water against the rebels who hope to take it back. It's another parable that's become more relevant with age. Jabs at the legal system, corporations, bureaucracy and capitalism itself are only part of this wickedly smart and endlessly hilarious show. Its music is clever and catchy without being too saccharine. Imagine Les Miserables but funnier and you'll start to understand the gist of Urinetown. 
Ragtime
Despite 1998 Tonys for Best Book and Best Score, Ragtime seems to have never gotten its day. Stephen Flaherty and Lynn Ahrens' sweeping epic of a musical based on E.L. Doctorow's book not only exposes America during one of its most important eras, but speaks volumes about the country we live in today. Taking place at the turn of the twentieth century, it tackles themes of racial violence, income inequality, workers' rights, incredible technological development, mega-celebrities and terrorism. If this doesn't speak to 2015 audiences, we don't know what will. Ragtime came back to Broadway recently, so it's clear there are still audiences interested in seeing it.