One of the Greatest Female Rock Groups of All Time Is Back With a Brand New Album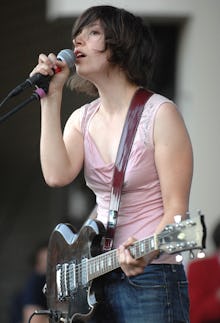 Long before Carrie Brownstein was running a feminist bookstore on Portlandia, she was part of what Time magazine dubbed "America's best rock band." It's no exaggeration. When they broke up in 2006, Sleater-Kinney was reaching legendary status that few bands — let alone female punk rock bands — ever achieve. 
That's why it's a really big deal that, 10 years later, they're back with a brand new album, No Cities to Love, that you can stream right now.
The band is iconic. They released their first album in 1995, just when riot grrrl bands like Bikini Kill and Bratmobile were beginning to pave the way for a new breed of female alt-punk rockers. Back then, the group was a feminist scream against male-led punk-rock and grunge bands like Foo Fighters and Pearl Jam. As grunge machismo began its dominance of American music, the punk trio, with Brownstein on guitar and vocals, Corin Tucker on vocals and guitar and Janet Weiss on drums, went on to release seven critically acclaimed albums that perfected their own brand of heavy guitar rock in a male-dominated genre. They broke up, in part, in the face of anxiety issues and new families.
But their fans never let them go. Even though Brownstein found a new career in comedy on IFC's massively successful Portlandia, she never escaped fans longing for her to bring the band back together. Even Fred Armisen, her co-creator on Portlandia, pushed her to do it.
"I was Sleater-Kinney's biggest fan," he claimed in an interview with NPR. "Does the world need another Sleater-Kinney album? It's like asking if the world needs food." 
True to the wishes of fans everywhere, Sleater-Kinney is back. And longtime fans will be more than psyched to hear that No Cities to Love stays true to the band's roots: aggressive vocals, demanding drums, heavy guitars and masterful songwriting. 
To those fans who've yet to jump on the bandwagon, Brownstein's Portlandia character Iris says it best: "You're a dirty hippie and you do not get punk at all."
h/t Pitchfork