Why 'Selma' Should Be Required Viewing for Every 20-Something Today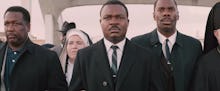 Although it didn't take home the Best Picture honor at the Golden Globes, Selma has been one of the most talked-about films this awards seasons, and for good reason. Aside from chronicling the fight to end racist voting restrictions, Selma appears to have fostered a moment that's much bigger than the film itself, especially in light of America's current civil rights struggles.
Rapper Common beautifully summed up that sentiment while accepting the award for Best Original Song on Sunday night.
"As I got to know the people of the Civil Rights Movement, I realized I am the hopeful black woman who was denied her right to vote," he said. "I am the caring white supporter killed on the front lines of freedom. I am the unarmed black kid who maybe needed a hand, but instead was given a bullet. I am the two fallen police officers murdered in the line of duty. Selma has awakened my humanity."
The ongoing fight against racism mattered in 1965 and still matters in 2015. Selma goes far beyond revealing the roots of anti-black oppression. In two hours, the film offers a much-needed history lesson to a generation still divided by racial and socioeconomic differences, revealing how racism in America has created a system of power and privilege that pervades the everyday lives of people of color. 
Even though the actual Selma marches took place 50 years ago, the lessons from the civil rights movement can be readily applied to the current conversations about racial profiling and police brutality. And this generation needs to hear them.
It's important for everyone, especially young people, to know their history in order to help move society forward, perhaps more than ever. Watching Selma is a strong place to start. Here are but a few of the reasons why Selma is a must-see film for every young person experiencing what could be a new tipping point for race relations in America:
The parallels between protests, both then and now, are unmistakable.
During many moments in the civil rights movement, including the marches in Selma, police forces often clashed with black demonstrators who practiced nonviolence and peaceful protest. Often, many members of those forces, including police chiefs and county sheriffs, publicly supported and strictly enforced many of the policies that upheld racial inequality.
Fast-forward to the present and the similarities are uncanny. In the initial days of Ferguson protests, America witnessed a militarized police force break up public gatherings and demonstrations, as long-standing racial tensions in the area reached a fever pitch. As Mic's Zak Cheney-Rice writes, "Whether police are brutalizing protesters fighting racial segregation in mid-century Alabama or doing the same to demonstrators in modern-day Missouri, the visual depiction of their violence makes it easier for everyone to see how consistent their role in these events is."
Selma shows the true cost of voting rights.
The right to vote now seems like an afterthought for many young Americans. But in reality, it's a constitutional privilege that has historically been manipulated by white supremacy to marginalize black people at every institutional level.
It took three marches for civil rights activists to make the full journey from Selma to Montgomery. During the first attempt, now known as Bloody Sunday, police officers and vigilantes ruthlessly beat and tear-gassed hundreds of protesters who marched across the Edmund Pettus Bridge. Millions of Americans watched it happen via news cameras live on the scene. Activists were also routinely beaten or killed, acts of intimidation intended to suppress the movement. 
It brings the women of the movement to the forefront like never before.
The vast majority of historical accounts focus on high-profile men like Martin Luther King Jr. and Malcolm X. However, black women have played pivotal roles in the struggle for racial equity throughout history. Selma elevates a few of those women, including Amelia Boynton, a longtime voting rights activist who was influential in calling upon King and his colleagues to organize the Selma marches. Also featured was Annie Lee Cooper, whose famous clash with county sheriff Jim Clark was pivotal in galvanizing activists. There are many more, most of whose names will be lost to history. For these women, removing racial barriers to voting was bound up in their liberation as women, an enduring lesson on why intersectionality matters for women's rights, then and now.
The film humanizes the movement's key figures. 
Although many accounts paint civil rights leaders as flawless superhumans, it's important to remember they were still human and fallible. This is important as a new group of potential leaders struggles with their own roles in the movement, balancing activism with the reality of jobs and families.
Selma not only shows how the King family endured the pain of constant death threats, but also depicts a marriage that held on through infidelities and difficult stretches of time spent apart. As for President Lyndon Johnson, the film shows how he struggled with moving civil rights issues forward, and how activists like King had to push him towards taking definitive action.
It shows how conflict emerges among fellow civil rights leaders.
Leaders in struggles for social justice often have similar goals, but sometimes they have conflicting ideas for how to achieve victories. Malcolm X and King often disagreed on issues and strategies, something portrayed throughout Selma. In addition, the film shows that younger activists from the Student Nonviolent Coordinating Committee, which was already moving on voting rights issues in the area, had differing opinions on whether or not they should work with King. 
In depicting how those discussions were shaped, Selma underscored the importance of having many voices and experiences represented in a movement, and showed that a diverse base of support does not mean a weak one.
The film shows how white people can responsibly help people of color.
Bloody Sunday's images disturbed many white Americans, with the end result that many felt forced to act. Indeed, several white activists and concerned citizens joined black leaders during the second attempt to march from Selma to Montgomery. As Selma shows, white and black allies marched together; they locked arms, moving side by side as they encountered heavily armed police officers. In these moments, white people weren't taking center stage or claiming victory as saviors. Instead, they used their power and privilege to help move the needle on civil rights, and did so by following the leadership of black leaders. 
That's a solid model for any white person who detests racism and wishes to be part of the solution, as an ally. And it's an important lesson to be learned, as #BlackLivesMatter marches and protests continue into 2015.