The Problem With the Golden Globes North Korea Sketch No One Is Talking About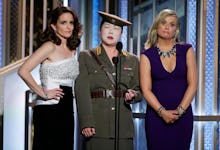 As the inevitable post-Golden Globes hangover starts to fade, it's worth revisiting what might be the most awkward gag of the ceremony.
You know the one:
Step inside the Beverly Hilton Hotel last night and you couldn't throw a penny without hitting a white person. Meanwhile, the only man, woman or child of Asian descent in a five-block radius seemed to be Margaret Cho's stereotypical take on a North Korean, replete with stoic facial expression, thick accent and the obligatory robotic cross-stage goosestep.
Ironically, the joke coincided with two remarkable achievements for women of color that evening: Ava DuVernay's Best Director nomination for Selma, the first ever for a black woman at the Globes, and Gina Rodriguez's Best Actress (TV Musical or Comedy) win for Jane the Virgin.
So it's especially telling that the only spot they could find for an Asian-American actress on the show was on screen for around two minutes as the (willing) butt of a joke.
The bit was something of a throwaway. It introduced Cho as Cho Young Ja, the "newest member" of the Hollywood Foreign Press Association and editor of a North Korean pop culture magazine. 
The character was partly a nod to her portrayal of Kim Jong-il in a 2012 episode of 30 Rock, which she later described to zap2it as "great" chance to "get a little bit of karmic payback" against a regime that's directly impacted her family.
It also coincided with the ceremony's intermittent "free speech" theme, which prompted multiple North Korea-Sony hack jokes throughout the night and a standing ovation in solidarity with victims of Wednesday's terrorist attack on French magazine Charlie Hebdo.
But while the stereotypical devices of the Margaret Cho joke clearly made many uncomfortable, as evidenced by viewer reactions, they highlighted a bigger problem as well:  the persistently limited opportunities for Asian and Asian-American talent in Hollywood.
Case in point is the repeated casting of white actors in remakes of films that originally starred Asian characters, like in Dragonball: Evolution, Avatar: The Last Airbender and most recently, DreamWorks' upcoming Ghost in the Shell remake starring Scarlett Johansson. Plus, when Asian performers finally do get parts, they're often forced to rely on stereotypes, framing them as exotic, comically emotionless or any number of others.
So the problem isn't whether Margaret Cho was right or wrong to make the joke — in fact, she's staunchly defended herself for doing so. Rather, the problem is context. This year's Golden Globes ceremony has been lauded for strong showings by women, the LGBT community, as well as black and Latina actors, yet the single Asian voice of note was designed as a gag.
We all know racial equity is a rare bird in Hollywood. But this incident proves, quite definitively, that we still have a very long way to go toward achieving it.