The Biggest Moment of the Golden Globes Had Nothing to Do With Movies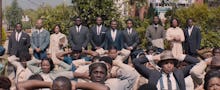 Selma was nominated for four Golden Globes, but it only won one: Best Song. 
Yet that was the most important one it could have won. It was the award proved that a bold movie about Martin Luther King Jr.'s advocacy in the 1965 voting rights marches is equally about Ferguson, and that the fight for civil rights in America isn't over at all. "Selma has awakened my humanity," said rapper Common accepting his Golden Globe for "Glory," the song he and John Legend wrote for the film. "We look to the future, and we want to create a better world. Now is our time to change the world. Selma is now."
Five months after Ferguson, that's a message Hollywood and American needed to hear more than ever.
The gospel and hip-hop crossover song powerfully unites today's civil rights movement with the civil rights movement of last century, giving crucial support to the #BlackLivesMatter movement both in the song itself and in Common's courageous acceptance speech. "Resistance is us / That's why Rosa sat on the bus / That's why we walk through Ferguson with our hands up," Common raps. He also spelled it out plainly in an interview about the creation of the song, claiming that the situations Martin Luther King Jr. struggled against in his time "still exist." The song's entire purpose, he said, is to inspire others to go out and "create change for a better world."
Seeing that message receive its due applause on a national stage was heartening. But the win means nothing if we don't follow through to make its true message a reality: "Civil rights" is more than an era in history — it's a war we're still waging, and we all need to pitch in. That's what Selma means — that's why this song matters.