This Is the Conversation We Need to Be Having About Women and Porn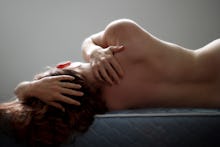 Want to understand female sexuality? Start by taking a look at the porn that women are watching.
It's not exactly breaking news that women watch porn, but rarely do we discuss what women are watching. According to PornHub's 2014 Year in Review data, however, women constitute 23% of porn viewers worldwide; in the America, it's 15%. 
And what are they watching? Lesbian porn. 
While we can't conclusively prove why, it likely reflects an important reality about female sexuality: Most women want authentic, non-degrading, pleasurable sex — and they need more than penetration to get off.
The top-gaining terms of 2014 mostly related to girl-on-girl action, with "lesbian seduces straight girl" as the fastest rising search, jumping by 328%, followed by the undeniably offensive "shemale fuck girl" and "lesbians scissoring." Notably, women were big consumers of woman-on-woman videos: PornHub found that women are 132% more likely to search for "lesbian" porn than men, and the most viewed category for women was "lesbian" (versus "teen" for men) in 2014.
While that could be due to an abundance of lesbian viewers, it's likely not; PornHub data indicates only a small fraction of its 14.7 billion visitors are gay. What's more likely is that whether you're gay, straight or bi, female viewers are clearly drawn to women being intimate with other women because of how all female women get off.
Oral is where it's at. Why is there so much interest in so-called "lesbian" porn? It likely has to do with the propensity of oral sex in girl-on-girl porn. Indeed, the PornHub stats also found that the most popular search terms for women are all about oral: Whether they're gay or straight, women seek out oral sex as one of their top porn preferences.
This shouldn't come as a surprise. While not all women prefer oral to options like vaginal penetration or anal, studies show that most women have a hard time coming from just penis-in-vagina intercourse. Analysis from over 33 studies, collected in the book The Case of the Female Orgasm, revealed that only 20% to 25% of women typically orgasm from penetrative sex. 
And when it comes to masturbation (hello, porn), 84% of women have reported using clitoral and labial manipulation, versus just 20% who reported using vaginal penetration, according to Kinsey Institute research.
"Straight porn" doesn't understand women. Despite such clear evidence of what women want, so much of porn, especially mainstream straight porn, is made by men, influencing its content. 
"[Historically], pornography has been made by and for men," porn director Erika Lust told the Guardian. That means the male orgasm gets the starring role, whereas in girl-on-girl porn, sex therapist Megan Fleming told Women's Health, "there really is a focus on oral sex and clitoral stimulation as the main event." 
As one straight woman who watches lesbian porn told the Daily Dot, "Considering that [receiving oral sex] is basically the only way I come, it's no contest for me what I'd rather watch."
In addition to the lack of oral sex, male creators often exclude female viewers by portraying women in degrading, objectified ways. 
"I watch porn fairly often, and always feel incredibly guilty afterward," 27-year-old Kaitlin Rae Erhard of Louisville, Kentucky, told Mic. "I've discovered this feeling comes from how women are portrayed or treated in porn. I mostly only watch lesbian porn these days."
That's prompted some women directors, including Lust and Anna Span, to create their own independently-produced, female-focused porn to try to fill the gap (an effort acknowledged by the Feminist Porn Awards). Still, porn from the female perspective remains the exception, not the rule.
Ignoring women's porn habits ignores women's sexuality. Porn is still viewed by society as a product by men, for men. While rarely talked about between mothers and daughters, it's still a key cultural fixture of the modern male experience: a son is bequeathed his dad's old issues of Playboy to make him a "man" or guys showcase their porn collections to their pals (à la Paul Rudd in The 40-Year Old Virgin). 
But, while porn still occupies a historically complicated place for many feminists, there are women watching it, and many are unabashedly eager to talk about it. "I watch the shit out of porn," Los Angeles-based writer Jessica P. Ogilvie, 30, told Mic. "And no, I am not ashamed of it, like, even a little bit."
She shouldn't be. Just as the stigma against female masturbation is getting slowly toppled, so too should the judgment of women who watch porn be replaced by validation. Getting real about what women watch, after all, can only help everyone understand what women really want. And that's something everyone benefits from.