Albuquerque SWAT Team That Killed Homeless Man Charged With Murder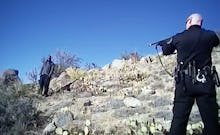 On March 16, 2014, a heavily armed team of Albuquerque police officers opened fire on mentally ill homeless camper James M. Boyd after a tense standoff. The encounter was caught on video that appears to show disproportionate use of force, although the Albuquerque Police Department continued to insist the shooting was justified for months following the incident.
Now the APD's luck appears to have run out. Prosecutors have announced that two officers who fired lethal rounds into Boyd's body, Keith Sandy and Dominique Perez, will be charged with murder. Local TV station KRQE provided letters from the district attorney showing that the state is serious about holding the officers involved accountable:
The background: As Mic has previously reported, Albuquerque's police are notoriously violent. Broken oversight mechanisms resulted in zero cases of officers being prosecuted or fired for excessive force as of last April, despite the fact that the APD kills more suspects per capita than the New York Police Department.
The same month that APD officers killed Boyd, they also shot a 19-year-old woman and were targeted in a scathing Department of Justice report that concluded the agency "engages in a pattern or practice of excessive force in violation of the Fourth Amendment of the U.S. Constitution." According to MSNBC, Boyd's death was "one of the department's more than three dozen fatal shootings over the last five years."
And as this video of Boyd's shooting shows, the APD seems highly motivated to make use of more lethal tactics:
Among the findings of the report (documented by NPR) were that the APD was much too quick to use lethal force, as well as systemic use of less-lethal weaponry like tasers on suspects who were "passively resisting, non-threatening, observably unable to comply with orders." It also lambasted the agency for unnecessarily escalating situations involving mentally ill citizens. In the aftermath of the Boyd shooting, hundreds of protesters took to the streets to denounce the department's pattern of force.
Why you should care: Trying officers who abuse their power in a court of law should be the default setting for any country, but cops in America are rarely indicted for allegations of misconduct. Even those that are brought to court are rarely found guilty. Basically, cops all across the U.S. stand a good chance of getting away with it when they violate another American's civil rights.
The prosecution of the two officers probably wouldn't be possible without video evidence, meaning that their dismissal as a method to reduce police-citizen violence may be premature. (Civil rights advocates might do well to focus on making sure the cameras are always used properly.) 
But even with significant evidence that the officers involved acted improperly and the DOJ breathing down the APD's neck, it will be an uphill battle for the prosecution. Many other victims of police violence won't see any justice, either since the system is biased in favor of officers or because it's already too late.