This Is Charlie Hebdo's First Cover Since the Attack — And It's Absolutely Perfect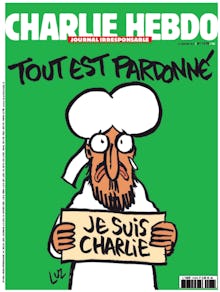 The first cover of Charlie Hebdo since the deadly Jan. 7 attack is here, and it's a doozy.
The new issue of Charlie Hebdo hit newsstands on Wednesday, Jan. 14, with an estimated print run of more than 3 million copies, far higher than paper's normal run of 60,000. It will also be translated into 16 languages.
This isn't the first time Charlie Hebdo had to get back on its feet after a gruesome attack on the newspaper. In 2011, its offices in Paris were destroyed by firebombs after it printed an issued jokingly "guest edited" by Muhammad titled Sharia Weekly and featuring a cover drawn by Luz, the same cartoonist who drew this week's cover.  A week later, Charlie Hebdo printed a powerful cover showing its cartoonist kissing a Muslim man with the headline reading "Love Is Stronger Than Hate."
h/t Libération