Elizabeth Warren Scores a Big Victory Over Wall Street and the White House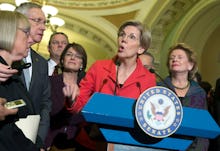 Chalk one up for the Senate's embattled liberal Democrats. 
Politico reported Monday afternoon that Wall Street banker Antonio Weiss, nominated by President Barack Obama to fill the third-ranking position at the Treasury Department, has withdrawn his name from consideration after six senators, led by Elizabeth Warren (D-Mass.), threatened to block his appointment and then publicly campaigned against it. Warren objected to making such a high-ranking bank official responsible for overseeing implementation of financial regulation.
Weiss has spent the last two decades working in the private sector and is currently with Lazard Ltd. as its chief global investment banker. Bloomberg reports that the firm was so eager to see Weiss installed at the Treasury Department that they offered "to grant him unvested income ahead of schedule: about $16.2 million in stock and as much as $5 million in deferred pay if confirmed for the job." This is a common arrangement meant to grease an executive's path from Wall Street to powerful policymaking positions in Washington, D.C.
A victory for reformers: Congressional Republicans have already succeeded, with limited opposition from the White House, in removing one important restriction from Wall Street reform law known as Dodd-Frank. As the GOP takes aim at further rollbacks, Sens. Warren and Joe Manchin (D-W.V.) dug in against Weiss.
"[Warren] is a no on Antonio Weiss," a Warren staffer told Politico in December, setting off the high-stakes standoff with the White House. "She was a Treasury official herself, she cares a lot about who is in the domestic finance role. It oversees Dodd-Frank implementation and other core economic policymaking."
The aide also said Warren and her allies didn't believe "his investment banking background, which focuses almost entirely on Europe and on international mergers and acquisitions, puts him in a good position to oversee domestic issues like consumer protection and U.S. financial regulation."
As undersecretary for domestic finance, Weiss would have, per the Treasury website, been responsible for "legislative and regulatory policies as they relate to retail financial services by banks and non-bank financial services companies." In practice, that means Weiss would have been left to oversee the same businesses and investors that he'd spent years working alongside. The controversial August 2014 deal he helped broker between Burger King and Canadian coffee giant Tim Horton's would have gone through his office. Analysts at Americans for Tax Fairness recently reported that the merger saved the burger chain "between $400 million and $1.2 billion in U.S. taxes over the next four years."
That in mind, Senate Democrats began pressing the White House to look away from Wall Street for this position. Weiss' supporters argued that he'd never worked for one of the "too big to fail" banks, but Manchin argued in December: "[Only] a person with direct 'Main Street' experience can fully appreciate the special concerns of that industry. Unfortunately, Mr. Weiss does not fit the bill, and for that reason, I must oppose his nomination."
Despite losing out on the job he wanted, Weiss will still be coming to Washington, but only as an adviser to Treasury Secretary Jack Lew.
Warren vs. the White House: Weiss' appointment had become the focal point in an increasingly tense standoff between liberals in the Senate, led by Warren, and White House officials who argue they will have to make sometimes unsavory deals with Republicans to get things done now that the GOP controls both chambers of Congress. Warren and Co. lost the first battle back in December. This time, they are walking away with a valuable scalp of their own.