France Is Now Facing Its First Post-'Charlie Hebdo' Free Speech Dilemma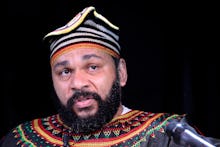 "As far as I am concerned, I feel I am Charlie Coulibaly."
With these words, anti-Semitic comedian Dieudonné has set off the first major controversy over freedom of speech in France since the Charlie Hebdo terrorist attacks that claimed 17 lives and injured 21 others. In a since-removed statement on his Facebook page, the comedian responded to the 1.5-million strong march in support of the paper's slain staff and the right to free speech by comparing his sentiments to those of perpetrator Amedy Coulibaly.
"After this historic, no legendary, march ... a magic moment equal to the Big Bang which created the Universe ... or in a smaller (more local) way comparable to the crowning of the (ancient Gaullish king) Vercingétorix, I am going home. Let me say that this evening, as far as I am concerned, I feel I am Charlie Coulibaly."
The Atlantic reports that French prosecutors are investigating whether the comedian's statement constitutes the crime of "defending terrorism" at the same time "an extended conversation has been taking place over the deadly interplay between free speech and religious extremism along with the right to blaspheme." 
So just hours after the largest gathering in French history took place to honor the fallen victims and speak out against terrorist violence, the government appears to be going after one of their own over the very thing everyone seems so intent to protect: freedom of speech.
The background: Dieudonné is the French comedian best-known for popularizing the quenelle, a gesture similar to the Nazi salute that critics say is anti-Semitic (and got him banned from entering the UK). The Atlantic notes that his record includes French court rulings finding him "guilty of such crimes as defamation, libel, and incitement to hatred and racial discrimination." 
He's since been on the French government's watch list, but feels that the recent controversy surrounding him is taking it too far. In a statement released on his website Monday, the comedian wrote: 
Since the beginning of last year, I have been treated as public enemy number one, when all I try to do is make people laugh, and laugh about death, because death laughs at us all, as Charlie knows now, unfortunately.
Despite Dieudonné's pleas of goodwill, however, a profile in the New Yorker claimed he had "made a career out of walking (and often crossing) a fine line between mocking racial stereotypes and using them." It added that in recent years, his focus had shifted to include more peddling of anti-Semitic conspiracy theories and concluded he was a "mediocre comedian who has gotten a lot of mileage out of very little talent and a good deal of hate." He's essentially a racist troll.
But Charlie Hebdo has been accused of the same: The publication has been accused of pushing tired stereotypes about France's vulnerable Muslim minority, which commentators have alternately accused of virulent racism or defended as satire. One key difference between the two incidents appears to be French laws criminalizing anti-Semitism and hate speech. George Washington University professor Jonathan Turley has criticized the country's enforcement of such laws as arbitrary and inherently political. Unpopular speech in France can result in criminal charges.
French bans on hate speech inevitably target certain groups more than others, essentially setting up double standards. The result is that some people end up with more of a right to free speech than others. The staff of Charlie Hebdo understood that; Turley writes that the "effort to redefine criticism of religion as hate speech or defamation is precisely what [slain magazine editor Stéphane] Charbonnier fought to resist."
He added that "The terrible truth is that it takes only a single gunman to kill a journalist, but it takes a nation to kill a right."
"A democracy does not back down from its fundamental freedoms, from freedom of expression," French Human Rights League Agnès Tricoire told France 24 after one of Dieudonné's previous conviction. "This astonishing decision sets a dangerous precedent. Who else is going to be banned for having a controversial point of view?"
Obviously it can be difficult to compare these kinds of situations, but some parts are clear. As France, its people and its government rallies for freedom of speech and the right to expression, the country is already facing its first test since the attack on the Charlie Hebdo offices. While the country has a ban on certain hate speech, considering it's hard to construe Dieudonné's recent Facebook post as "hate speech," it might be time for the government to reevaluate its own rules and really examine what "freedom" really means.