Someone Flew a Drone Through Frozen Chicago and the Result Is Hauntingly Beautiful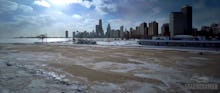 As Chicago slowly emerges from a 37-hour stretch of sub-zero temperatures that just barely missed breaking a top-10 record, one videographer has documented just how hauntingly beautiful the Windy City looks like while frozen solid.
From a drone.
Its lofty vantage point allows a stunning look at "ChiBeria," where the polar vortex temporarily resulted in temperatures lower than those at the South Pole. 
The video features well-known landmarks like the downtown skyline, train lines and the frozen lake as well as various industrial and residential neighborhoods, all of which look eerily empty amid the winter snowfall. Chicago is normally quite a bustling city, making the serenity of its frozen landscape all the more remarkable. 
The effect is reinforced by shots of the frozen lake intermixed with equally placid scenes of the urban environment. The shots of the frozen beaches are particularly impressive, with jagged shelves of snow giving way to pounding waves.
Basically, it's really cool, and another reminder that drones can provide an entirely new way of looking at a formerly inaccessible environment, much like drone videos of the Chernobyl Exclusion Zone shed light on that isolated ghost town and its rapidly encroaching forests.
According to the video's description, creator Colin Hinkle shot the video over the course of two weeks in January using a GoPro Hero 4 camera strapped to a DJI Phantom 2 Drone. Because the video was shot in 4K, Hinkle claims that the GoPro's battery needed to be rechanged after every 10 minutes of filming.
In tough times, it's nice to be reminded that sometimes beauty is all around us. Sometimes it just requires a new perspective.
Correction: Jan. 13, 2015
h/t Huffington Post