Sweden's Pop Stars Are the Feminist Icons America Needs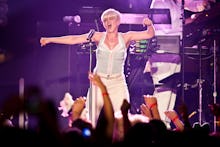 You may have caught on by now that there's a high likelihood that the pop song you can't stop listening to was made by a Swede and streamed by millions of Americans on Spotify, a Swedish company. Or how even that folk song that sounded so American was actually by a Swede.
But Sweden's greatest musical innovation wasn't "Oops ... I Did It Again" or even Spotify. Sweden's pop stars are showing the world what it means to be a feminist music legend. And given our own nascent feminist music revolution, we need their example now more than ever.
It's been a fact of Swedish music for awhile now, but people started to take notice recently when Sweden's Got Talent winner Zara Larsson posted a picture of her stretching out a condom so she could wear it on her leg like a knee-high sock. The caption read, "To all the guys saying 'my dick is too big for condoms' TAKE A SEAT."
It made international headlines for firing back at men who use that excuse to have sex with women without a protection, which is manipulative and never OK. In short, while Taylor Swift is having her "feminist awakening" at 25, this 17-year-old is already taking a fierce stand for women. And her music is just as spunky and great.
She has a lot in common with 29-year-old Swedish sensation Elliphant. Dubbed "Sweden's most controversial pop star," Elliphant has a powerful commitment to strong feminist stands — the kind of uncompromising language that makes a lot of people uncomfortable. As Mic's Amy LaCount wrote, "At the heart of the pop music scene, where everything is carefully choreographed and women are expected to perform cookie-cutter sexuality and politeness, Elliphant is singing lines like 'I'm like a finger up your ass now / Why not give it to me?'"
American music fans are discovering these singers now, but they're only the most recent entry to a long tradition of Swedish singers. Robyn long ago set the tone for modern Swedish pop by using her music as a platform to dig into questions about gender identity, sexuality and feminism.
And she's been doing it since the '90s. She's best known for her empowering anthems like "Dancing On My Own" and speaks often of her commitment to feminism and her experience as a woman. In an interview last year, she said her "first feminist awakening was all about being strong; it was a catalyst that helped me find the courage to do new things." She later embraced the fact that women can be sensitive and delicate as well, and that was the realization that launched her renaissance. 
This is what much of Robyn's music is about, especially her 2010 album Body Talk, which explored the complexities of what it means to be a woman. Her songs "Call Your Girlfriend" and "Fembot" are filled with hints and questions about androgyny, sexuality and the idea of being trapped by your body. They were also catchy, spreading their progressive message far and wide.
Her model, in many ways, has set the tone for Swedish acts looking for their own voice. Recently, Swedish country duo First Aid Kit broke in America, and they displayed a similarly bold commitment to feminist ideals.
Sisters Johanna, 23, and Klara Söderberg, 21, said they were taught about feminism by their mother when they were 5 and have since been committed to the ideals. Even though they're new to the industry, they have voiced their concerns about a rampant lack of female representation in music and the even smaller proportion of women who actually understand what feminism means.
More women should be making music, "but then you realize how women are treated in the media, how they are described, how they are looked down upon. It's really tough, still. I hope our generation will change things," Johanna Söderberg told the Telegraph. 
But there's a lot to change in American music, and it has a lot to do with our sexual politics. When Beyoncé stood in front of a marquee declaring "FEMINIST" at the 2014 MTV Video Music Awards, America exploded with praise and hope that 2014 was officially the dawn of post-sexism music.
But Swedish artists are less invested in tokens of feminism and far more interested in real change.
"It's great that Beyoncé is saying she's a feminist but at the same time we need more than that," Klara Söderberg told the Telegraph. "I'm glad people are talking about it and acknowledging feminism, but we also need to do things. The first step is of course to be aware of it and realize that feminism has nothing to do with hating men."
Though American pop stars don't "hate men," it is true that Sweden's cultural climate is far more welcoming to bold women. Sweden is one of the countries leading the world in adopting more progressive attitudes about gender. In 2012, "Sweden introduced the gender neutral pronoun hen into its online national encyclopedia as the gender-neutral replacement for han ("he") and hon ("she")." Not only that, they have a higher female labor force participation and a lower wage gap than the United States.
But Swedish pop stars' commitment to unvarnished and firmly committed stances on feminism only encourage those societal shifts. They're necessary in America. The next time we import a hit from Sweden, we should bring some of their feminist pop stars with it.