One Chart Shows Why the World Should Care About Boko Haram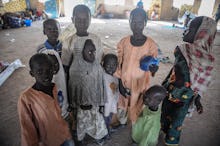 As the world watched in horror while two gunmen slaughtered 12 people at the offices of satirical magazine Charlie Hebdo in Paris last week, a massacre of a different kind was happening a few thousand miles away.
In the Nigerian towns of Baga and Doron Baga, Boko Haram insurgents carried out one of the bloodiest attacks in the group's history, killing an estimated 2,000 people. Most of the victims were women, children and elderly people who couldn't escape after fighters drove into the town firing rocket-propelled grenades and other weapons at local residents.
"The human carnage perpetrated by Boko Haram terrorists in Baga was enormous," Muhammad Abba Gava, a spokesman for a civilian defense group that fights Boko Haram, told the Associated Press. The wreckage was so severe, he said, that civilian fighters stopped counting the bodies: "No one could attend to the corpses and even the seriously injured ones who may have died by now."
But far from being an isolated attack, Boko Haram's latest onslaught is part of a steadily growing trend. As the below chart from Eurasia Group President Ian Bremmer demonstrates, the violence perpetrated by Boko Haram insurgents has been swelling for the last few years: 
Using data from the Armed Conflict Location & Event Dataset, which produces real-time data for disaggregated conflict analysis and mapping in Africa, the chart illustrates a stark pattern: The number of deaths caused by Boko Haram is rising from year to year. And if last week's singular attack is any indication, the threat is growing. 
Things are getting worse. It's difficult to pinpoint the precise number of deaths carried out by Boko Haram, in part because reporting in the area is "notoriously difficult," as the Guardian put it. But while there are sometimes discrepancies in the numbers — the Nigeria Social Violence Dataset puts the 2014 death toll at roughly 5,000, and the Washington-based Council on Foreign Relations echoes that number — what is clear is that the crisis of militant terror has gone from bad to worse in a short period of time.
"The conflict is rapidly intensifying," wrote Nathaniel Allen, Peter M. Lewis and Hilary Matfess, all of whom are from the Johns Hopkins University School of Advanced International Studies, in the Washington Post. "Nigerian casualties are now running more than double those in Afghanistan, and substantially higher than in Iraq just a few years ago. An estimated 3,120 civilian and military casualties were recorded in Afghanistan last year. In Iraq, 4,207 fatalities were estimated in 2011 in the wake of the surge. The worsening conflict in northern Nigeria already has suffered more casualties this year than the world's most publicized contemporary wars."
The Nigeria Social Violence Project calculated the number of fatalities by category in Nigeria from 1998 to 2014, and the results are striking: 
From 1998 to 2008, 69% of casualties stemmed from communal violence, which the group defines as "a number of conflicts, including [those in] the Niger Delta," and Boko Haram was a negligible entity. Contrast that with 2009 to 2014 — during those years, Boko Haram was responsible for more than half of the country's violent deaths.
"Since January [2014]," Allen, Lewis and Matfess wrote in October, "more than 5,000 people have died, making the past eight months almost as deadly as the preceding five years." 
Last week's attack only adds to the pattern of growth. If the reports are true, "this marks a disturbing and bloody escalation of Boko Haram's ongoing onslaught," Daniel Eyre, Nigeria researcher for Amnesty International, told the Guardian.
And yet few international organizations are taking any notice. Despite the utter destruction of Baga's residents, the media seems to have turned a blind eye to the conflict. 
Boko Haram is now on par with the Islamic State in terms of violent deaths — the latter was responsible for roughly 5,500 deaths in 2014, which is comparable to the estimates outlined above — but there isn't nearly as much hand-wringing over the Nigerian terrorist group. 
Part of this is due to the circumstances surrounding the attacks. As Mic's Mikael Owunna wrote, "Reports about non-Western victims of terrorism are typically restricted unless they can serve a particular agenda, and we saw that again this past week with the media's ominous silence around Boko Haram's massacre of thousands of victims in Borno State."
The West, particularly the United States, has an enormous amount at stake when it comes to the Islamic State. They pose a serious threat to our interests abroad and have the power to entangle us in yet another Middle Eastern conflict. 
Nigeria, on the other hand, holds no such power, and Boko Haram's attacks have thus far targeted a population that is far removed from our own. President Obama's own logic for fighting against the Islamic State — that we must protect targeted groups from its violence — could be used in the case of Boko Haram, and yet no major calls to action have been put forth. 
Ignatius Kaigama, the Catholic archbishop of Jos in central Nigeria, argued that the country can't face Boko Haram on its own. "It is a monumental tragedy. It has saddened all of Nigeria," he told the BBC. "We seem to be helpless. Because if we could stop Boko Haram, we would have done it right away. But they continue to attack, and kill and capture territories ... with such impunity."
The attack on Baga, as well as other recent incidents (including one in which the group is suspected to have used a teenage girl as a suicide bomber) are the clearest indication yet that the threat from Boko Haram is growing.  
The world came together after the attack on Charlie Hebdo in France, and it came together after the attack in Sydney in December. Boko Haram's pattern of growth since 2009 makes it clear that it will continue to wage a violent war on its own population. It may not be happening on our doorstep, but that doesn't mean we can ignore it.