Macklemore Just Released His First New Music in a Year... on 'Sesame Street'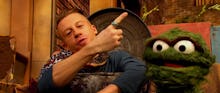 Now we know where Macklemore has been hiding since his blockbuster album, Heist, exploded onto the hip-hop scene: in a trash can on Sesame Street.
The Seattle rapper appeared on the show on Monday up to hang out with Oscar the Grouch and sing a parody remix of "Thrift Shop" about dumpster diving. The video that's emerged is short, sweet and honestly not that much more goofy than the official "Thrift Shop" video he released in August 2012.
Other than a quick feature on Clinton Sparks' "Gold Rush" with 2 Chainz and DA, these are actually the first verses he's released since Heist. He's pushed a few other goofy tidbits here and there, including a quick Instagram track discussing how important it is that guys put down the toilet seat after they pee. So, basically, Macklemore has always been this goofy. This is just the first time he's been goofy with puppets. 
It's no small honor, though. With this appearance, Macklemore joins a long list of musicians that have all guested on Sesame Street, including Ice Cube, Janelle Monae and Usher. Macklemore actually looks more comfortable than most. His humor really fits the Sesame Street aesthetic of sneaking socially conscious messages into otherwise ridiculous and colorful landscapes. 
But it's also an odd contrast to his other recent appearances, such as a Dec. 29, 2014, interview with Ebro in the Morning . There, he discussed an extremely serious topic — white rappers' participation in hip-hop and the slippery slope of cultural appropriation. He stressed that public figures should "be humble," "listen" and "be willing to make mistakes." This video, though on the complete opposite end of the spectrum from Sesame Street in terms of gravitas, does similarly show that the artist is willing to humble himself. 
Macklemore is back, everybody.
h/t Mashable