The Islamic State Just Released Its Most Horrifying Propaganda Video Yet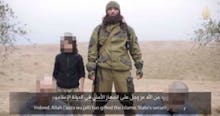 The Islamic State militant group, which has been wreaking havoc across Syria and northern Iraq, released a propaganda video Tuesday that purports to show a young boy executing two men who "confessed to being Russian spies."
The video, which was released through the militant group's official propaganda outlet, al-Hayat Media, depicts a young child, thought to be around 10 years old, shooting two men identified as "agents recruited by Russian intelligence" in a nondescript desert, the Independent reports.
The boy appears to be the same one previously featured in a propaganda video showing the training of child soldiers in Kazakhstan.
Vocativ has a great analysis of the video:
Before their execution, the [Russian Federal Security Service] agents are interviewed. The first identifies himself as Mamayev Jambulat, who told his interviewers that he was sent to gather info on the Islamic State and to get closer to a [member of the group]. Jambulat said that he was born in Kazakhstan, which may explain why [the Islamic State militant group] used a Kazakh child soldier to carry out his execution. The second soldier is named as Ashimov Sergey Nikolayavich, who said that he previously worked in Russian intelligence, and was sent to locate and kill a specific [Islamic State] leader. Nikolayavich says during the interview that he received payment on a per-piece-of-info basis from Russian Intelligence. In the video, he also says that he was once a Muslim. None of his statements have been verified at this time and could very well be coerced in the interview under duress.
Children as sick, sick propaganda: Islamic State fighters and sympathizers are more than happy to hold up innocent children as burgeoning young jihadis in order to lure young Muslims from Western countries onto the battlegrounds of Syria and Iraq. 
More than just models: Islamic State militants have been training children to function as suicide bombers at training camps across Syria. "We believe there are between 200 and 300 children in the camp," Ibrahim al-Raqqawi, a Syrian activist who monitors Islamic State activity in Raqqa, told the Telegraph:
In Raqqa city, [Islamic State] fighters often hold "festivals for children" as recruitment drives for the training camps.The camps are portrayed as "boy scouts clubs," where parents are told their children will learn about Islam and study the Holy Quran.
This video is more than just propaganda: It's a chilling reminder of sheer evil of the militant group.