Woody Allen Is Producing a New TV Show — And It Should Never See the Light of Day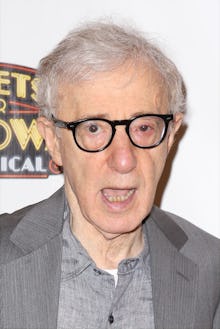 Hollywood icon and alleged sexual abuser Woody Allen is making another comeback.
The director — renowned for his decades of award-winning films but dogged by a controversial marriage to his ex-wife's adopted daughter and allegations that he sexually abused his own adopted daughter — is creating his first TV show for Amazon. According to a press release, Allen will write and direct the half-hour series, which has received a full season order. Amazon Prime Instant Video customers throughout the U.S., U.K. and Germany will soon have exclusive access to the Untitled Woody Allen Project.
But not everyone is happy.
Plenty of people think Allen's sordid history should not be rewarded with more fame. In February 2014, Dylan Farrow made a splash when the New York Times ran an open letter in which she accused her adopted father of sexually assaulting her. She wrote, "When I was seven years old, Woody Allen took me by the hand and led me into a dim, closet-like attic on the second floor of our house. He told me to lay on my stomach and play with my brother's electric train set. Then he sexually assaulted me." 
Farrow went on to provide harrowing details of her alleged abuse and called out some of Hollywood's biggest heavyweights for continuing to celebrate her "tormentor." Her letter sparked outrage, although not the kind Farrow might have wanted. In the wake of her bombshell, several actors, like Scarlett Johansson, jumped to Allen's defense.
Farrow's sexual abuse claims are far too old to ever see the inside of a criminal courtroom, but her public letter all these years later raises a salient point: Celebrities accused of rape often rebound with few professional consequences. 
Cases in point: CeeLo Green, Tupac Shakur, Mike Tyson, R. Kelly, Roman Polanski and most recently, Bill Cosby. All of these stars were accused of sexual abuse to varying degrees, and the majority of them have gone on to enjoy their own career rebirths.
There is one notable exception on this list, however. While costars have publicly defended him and a recent performance in Canada was well received, Cosby's career is taking a massive hit. In November, TV Land announced that it will no longer air reruns of The Cosby Show, and both NBC and Netflix dropped  Cosby projects from their lineups. He may not face jail time, but there's no denying his reign as America's favorite father is over.
So why the glaring difference between Cosby's and Allen's career trajectories, post-abuse allegations? Both men have long, successful histories in Hollywood. Both men have been accused of heinous crimes: serial rape and sexual abuse of a minor, respectively. But one is being heralded with a new project, while the other is floundering. 
Hollywood loyalties can be as fickle as public opinion, but there's probably something else going on here. Is it because of the sheer number of accusations lobbed against Cosby? Or the uncomfortable dissonance with his legacy as a respectable family man, whereas Allen has always been "quirky"? And then there's the potential role that race may play. 
The different influences of these factors are easy to speculate about, but difficult to pin down. 
One thing is clear, though: Hollywood's Woody Allen problem isn't just going to go away. Indeed, advocates are already massing on Twitter using the protest hashtag #StopWoody. In today's society it can be difficult to separate an artist's high-profile achievements from a disturbing personal life, but that doesn't mean we as a society shouldn't try to hold celebrities accountable for their actions, legacy or no legacy.
Correction: Jan. 14, 2015