The Grammys Have No Idea What Music Was About in 2014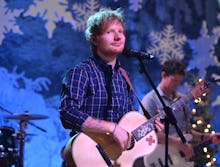 Every year, the Grammys draw hate for ignoring "real" music — for celebrating sounds that sell over sounds that inspire. This year, it seems, will be no different.
This morning, the awards show released its first round of performers for the Feb. 8 broadcast, and it is pretty rough: AC/DC, Madonna, Ariana Grande, Ed Sheeran and Eric Church make up the starting lineup. Whether you're a fan or not, it's safe to say that none of these names could rightfully be considered musical innovators in 2014, nor will any of them really benefit from this sort of exposure. In short, the Grammys are primed to continue their history of failing to help emerging audiences and playing it a little too safe.
Looking closer at the acts. 2015 will make Madonna's fifth Grammy performance. She continues getting invited back, even though her music has only gotten more formulaic since her dominance in the '80s. In fact, she only began performing on that stage once her career started going a bit stale: Her first Grammy performance was 1999's "Nothing Really Matters" — exactly a year before her worst ever song, "Music." She performed that at the 2001 Grammys. If the 2015 Grammys are about the defining music of 2014, Madonna, who barely released new music in 2014, doesn't exactly seem like a representative choice.
And then there's AC/DC, who has basically never written a song that stretches beyond a four-on-the-floor drumbeat with four or five power chords. That formula may have been fresh back in the '70s, but their latest release, Rock or Bust, is hardly innovative. Eric Church is similarly straight-ahead, though he at least wrote good songs in 2014.
Meanwhile, nice guy extraordinaire Ed Sheeran is maybe the most relevant act announced thus far. As one of the more vanilla, least offensive and arguably least creative musicians on the scene these days, his selection isn't exactly remarkable.
Most of the acts chosen are suited to an older, less engaged crowd. This makes sense in terms of the Grammy academy's voting setup. The Grammys' entries are often voted on by retired music industry heads, many of whom have likely not been in touch with the creative process since the '70s and '80s. And as such, they make the logical '80s choices. They picked Madonna over the seductive FKA Twigs, who, despite her brilliant album and her famed performances, was largely snubbed by the awards. They picked AC/DC over rockers War on Drugs, which didn't receive a single nod, even though Lost in the Dream was in the Top 3 albums on year-end lists for Pitchfork, Stereogum and the Guardian.
The Grammys do this every year, though, and there are sure to be more gaffes as the night approaches. This is only the beginning, but it's just another sign that nothing has changed.