This Congressman Will Make History as the First Muslim on the House Intelligence Committee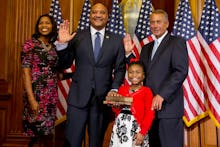 Rep. André Carson, a Democrat from Indiana, will be the first Muslim to serve on the House Permanent Select Committee on Intelligence, according to Politico.
Politico reports that his selection, which was announced by Minority Leader Nancy Pelosi during a private meeting, will be made official in a matter of days.
The House Intelligence Committee oversees the affairs of the intelligence community, which includes institutions like the CIA, the Department of Homeland Security and the National Security Agency. Carson currently serves on the House Armed Services Committee.
Carson, who is a member of the Progressive Caucus, has a record of taking measures to limit the national security state. He's voted to regulate wiretaps and reduce surveillance behavior and cosponsored a bill to end bulk data collection.    
Carson, who converted to Islam in the late 1990s, became the second Muslim to serve in Congress after he won a special election in 2008 to replace his grandmother, Julia Carson, after her death. The first Muslim elected to Congress was Rep. Keith Ellison, a Democrat from Minnesota. 
Both Carson and Ellison are the only Muslims in Congress, an organization that is far more homogenous in its religious composition than in its racial or gender makeup. The 114th Congress is 18% racial minority, 20% female and 8% non-Christian.
The announcement comes at a time of heightened tension for the Muslim community in the Western world, after terrorist attacks by radical Islamists in Paris last week that left 17 dead sparked a new wave of right-wing xenophobia and prompted a number of governments to call for new surveillance regimes.