The Last Original Beastie Boys Video Is Finally Online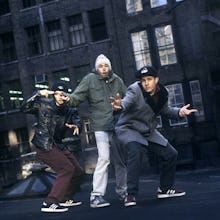 On Sunday afternoon, an unreleased video surfaced of the Beastie Boys' "Too Many Rappers" off their final album, Hot Sauce Committee Part Two. It isn't just any video, though. This is most likely the last new video that will ever come out of the Beastie Boys' historic three-decade career — the last one with all three of them together. And it's amazing:
A fan named Eoin McLernon just unearthed the video this week, but others have been looking for a long time. He described the find on a Beastie Boys forum, writing, "To me this is the biggest news from the boys since that sad, fateful day in 2012. So here it is, my fellow Beastie heads! Please enjoy, it's better than I could have ever imagined!"
It's a striking find. The footage in the video is among the last shot of Adam "MCA" Yauch before his death in May 2012. In the video, MCA, Ad-Rock, Mike D and Nas hang out backstage, walk around a grocery store, dumpster dive at Arby's and push a body across a bridge in a shopping cart. Directed by Roman Coppola, it's a prime example of a classic lo-fi Beastie Boys video — there are more hijinks than there is visual quality.
This was meant to be the second video off the group's last album. The band released a star-studded and memorable video for their first and only single off Hot Sauce, "Make Some Noise," but probably because of MCA's illness, "Too Many Rappers" didn't see the light of day until now. That's likely because the Beastie Boys vowed to MCA that they wouldn't put out any new music without him. 
Still, this is an incredible gift to fans. It's one last glimpse of the guys having a good time together — a glimpse of a friendship that was instrumental in shaping popular rap. The guys were in their 40s when they released their final album, and the "Too Many Rappers" video shows yet again that age doesn't mean a damn thing if you're having fun.