9 Stunning Photos That Shatter Society's Stereotypes About the Perfect Body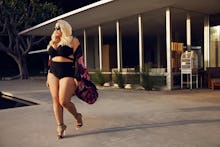 "Every body is a 'good body.'"
This is the philosophy of Gabi Gregg, deemed "the founder of the blessed fatkini movement." A Detroit native and the creative genius behind the fashion blog GabiFresh, Gregg spoke with Mic about her swimsuit line of nine bikinis she did in collaboration with swimsuitsforall.  
"No one deserves to feel shame over the way they look," Gregg said, "so those of us who believe in this philosophy are unlearning the ways our society teaches us to hate ourselves. In terms of fashion, it's about wearing what you love and what makes you feel good, regardless of what we're told is 'right' for our bodies."
Through her philosophy and her chic design aesthetic, Gregg's voice in the body positive movement shows that all bodies can be fashionable, not just the ones you see in the Sports Illustrated Swimsuit Edition.
The collection offers a number of firsts for the budding designer, including the number of pieces (she's expanded her line from three to nine) as well as the range of sizes (E/F cup options have been added for sizes 18 to 24). Gregg took charge of all design elements, she said, "from thinking of prints to getting the fit right." She said she took more risks this time around from creating the teal and pink "jellyfish bikini" to using banana leaf print.
Knowing that "plus-size women want to feel supported," Gregg took great effort translating her body positive philosophy into the designs themselves. 
"I am never limited by what women 'should' wear," she said. "I know so many plus-size women want the same bold, cool designs as everyone else." The problem, she says, is that designers think plus-size women are ashamed of their bodies. "So many plus-size designers and brands wrongly believe we want to hide." These designers, if anything, are projecting body shame onto women who don't feel it in the first place. 
"Body positivity is about breaking out of that old school way of thinking and realizing many of us are OK showing our bodies and expressing ourselves through fashion."
The collection was inspired, she told Mic, by both a hybrid of street style and haute couture on the runway. "If I see something on Tumblr or in the streets of New York, I'll keep it in mind and think about how I can incorporate some of the cool details or elements into the swimwear." 
Gregg said she was particularly taken by the trends of oversized zippers and banana leaf prints, which she incorporated into her bikinis. These contemporary elements make the collection, which has a very retro-1950s aesthetic, feel unique.
The initial success of the line is telling, especially for newcomers like Gregg, who dreams of one day designing a full women's wear collection. Clearly, there is a significant market of women who are looking for clothes that make them look and feel even better than they already do. She cites the overwhelming reception of her work as just one example of how "positive changes in the fashion industry" are happening more quickly than ever. "More brands are extending sizes, taking risks with their designs, and understand that we want the same styles as everyone else."
Even Gregg's marketing campaign reflects this change. The women are sensual, sexual, and looking flawless in their swimsuits. No one is hiding, or looking demure. These women are owning it, and they are proof positive that Gregg's philosophy inspires ever aspect of her work.