A Church Denied This Women Her Funeral Service Because She Was Gay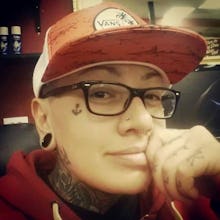 A Lakewood, Colorado, minister has been targeted by dozens of protesters for what they claim was an act of terrible cruelty: refusing to hold a scheduled funeral because the deceased, a mother of two, happened to be a lesbian.
In a post to their Facebook page, organizers for a group called the "Dignity in Death Rally" claimed that Pastor Ray Chavez and New Hope Ministries gave mourners for local woman Vanessa Collier no prior notice of the cancellation on Saturday, even collecting donations he has not refunded:
Pastor Ray Chavez and New Hope Ministries cancelled the funeral of our friend 15 minutes after it was to have begin. He refused to allow her alternative lifestyle video of her life be shown and kicked us out of the church. Her casket was open, flowers laid out and hundreds of people sitting in the pews. He collected money for the funeral and has yet to return it.
Protesters held a variety of signs decrying the church's alleged homophobia and the actions of its pastor:
According to the Denver Post, a representative for the church hung up on their reporter when asked for comment.
"If the story is true, it truly is appalling that a family would have to go through this," GLBT Community Center of Colorado spokesman Rex Fuller told the paper. "It's just a really tragic situation."
The Post provided a program for Collier's memorial service that appears to corroborate the protester's claims.
Post city editor Larry Ryckman added that, thanks to the disruption, the "hundreds" of people present at the funeral were ejected:
New Hope Ministries' website touts the church as "a place where those bound by drugs, alcohol, gangs and violence can find an ounce of hope." Pastor Chavez's bio on the website quotes him as claiming: "We're a center of hope – with hands of mercy."
To the protesters, Chavez's actions inspire few feelings of either hope or mercy. "This is about not being able to have dignity in death for one of God's children," family friend Jose Silva told KDVR. "No matter what the circumstances – if you're black, white, brown, gay, lesbian, transgender – we all deserve that. And the church did not afford that to us."