40 Record Labels Tried to Sign This One Texan Dishwasher — With Good Reason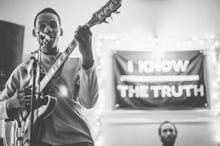 Seven months ago, aspiring soul singer Leon Bridges was washing dishes at a restaurant in Fort Worth, Texas. On Christmas, six months later, he announced that he'd signed with Columbia Records. The transition was so fast that not much was different about Bridges's life when he signed the deal that most musicians would spend their lives chasing: He printed and penned his contract at a local Staples after eating Chipotle and watching Adventure Time.
It's not a bad start for a man who's primed to save soul music. After being pursued by over 40 labels, the 25-year-old found the perfect home with Columbia. Bridges is the newest member of a family that includes legends like Adele, John Legend, Aretha Franklin, Jack White, Mavis Staples, Pharrell Williams and Marvin Gaye. He's in good company, and he's about to become the label's next success story in throwback soul.
But Bridges didn't find those soul roots on his own. When he started playing guitar a few years ago, it was to learn simple chords to accompany his songwriting. Bridges was a true fan of '90s R&B artists like Ginuwine and Usher, and he wanted to write lyrics set to hip-hop beats. He sang a few of his creations at open mic nights but was never satisfied with his music. That changed after he wrote "Lisa Sawyer," a song about his mother. It was the song that started his career's snowballing.
"Somebody asked me, 'What are your inspirations? Sam Cooke?' I was like, 'Not really.' I'd heard about him, but I wasn't listening to him hard like that," Bridges told NME. "So after that I started digging into soul music and that 1950s and '60s vibe. ... I love the realness and the simplicity of it. The soul music they were making back then was from the heart."
With a new sound, Bridges began writing more. And soon he found an audience.
Bridges' big break didn't come through music, though — it came over a conversation about jeans. He met Austin Jenkins, the guitarist in famed indie band White Denim and one of the luminaries of the Fort Worth scene, at a local bar where they talked about clothes. But when Jenkins and bandmate Joshua Block happened upon Bridges a few weeks later at a small venue in north Texas, and they were immediately captivated by his original performance of a song called "Coming Home."
"This guy is writing songs that rival some of the best soul songs I've ever heard," Jenkins told Fort Worth Weekly. "I remember just thinking to myself, 'Man, I know every song Sam Cooke has ever done, [and] this isn't one of his songs. And I was wondering whose [song] it was. I was shocked that was happening at Magnolia Motor Lounge on a Tuesday night."
What Block and Jenkins saw in Bridges was more than just raw talent, though: They saw him as a pioneer for a long-awaited recording project they later called Niles City. The two producers had been working to build a studio of their own in a 100-year old building with only equipment from the '40s and '50s. And in Bridges, they found their first star. They quickly recruited an army of local musicians — all of whom played for free — and set to work on an album. Most of the musicians had never met Bridges by the time the recording started.
The result was a throwback soul sound created in a throwback space. And there was no room for heavy digital tweaks and adjustments. The result is a set of songs so powerful that when they were uploaded to the Internet, they quickly went viral. Bridges was hounded by 40 record labels, and like that — he had a professional career in music. He also has over a million plays on Soundcloud, with just two original songs.
The industry reaction is a sign of just how successful Bridges could be. He makes throwback music, but soul is already making a heady comeback in 2015. If the success of Mark Ronson and Bruno Mars' "Uptown Funk," which knocked Taylor Swift out of Billboard's No. 1 spot last week, proves anything, it's that nostalgic soul is exactly what modern music needs. Bridges focus will never be fame, though. He's stay rooted in the scene that rallied around him — that came together on a whim to produce a debut album (expected release by summer) that's becoming hotly anticipated. Bridges may sound just like the past, but there's much more to come.