These Stunning Photos Shatter Society's Stereotypes About Dancers' Bodies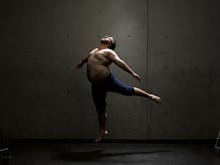 Women, and increasingly men as well, are held to narrow standards of thinness. One dance company, however, hopes to push back on this ideal and celebrate the beauty of full-figured bodies.
Nothing to Lose, a performance piece born from the collaboration between Kate Champion, the Artistic Director of dance theater company Force Majeure, and Kelli Jean Drinkwater, an artist, filmmaker and fat activist, aims to challenge the idea "that our professional stages are prohibitive spaces for larger, fat dancers." "Talented, captivating movers can come in all shapes and sizes," Champion noted in a press release. "Nothing to Lose is a celebration of the bigger body in all its wonderfully expressive capacity."
While fat-phobia is generally pervasive in our culture, the dancing community is somewhat notorious for the way it has normalized these critiques. 
"In my experience, the traditional dance world continues to insist that the term 'dancer's body' is synonymous with 'thin body,'" dancer and body positive activist Ragen Chastain told Mic. "It's a self-perpetuating, self-fulfilling idea wherein those in power insist that, no matter what a fat body can do, it doesn't 'look right' doing it because it's not a thin body." 
Drinkwater hopes Nothing to Lose will shed light on this dynamic. 
"The backbone of most of my work has been a fascination with the way larger bodies are perceived," Drinkwater's program note reads. "I am constantly inspired by the potential of this 'otherness,' the intersections of what that means and the way in which my body determines my identity. I am also motivated by the societal obsession with fatness. This often manifests in a desire to explore what is considered prohibitive to the larger body."
Champion and Drinkwater told Classicalite that they held open auditions for dancers of size and consulted them about their experiences. Many performers reported lacking access to training, Drinkwater told Dance Informa Magazine, because of narrow ideas about the ideal "dancer's body." This lack of access, Drinkwater noted, "then creates this knock on effect in terms of what we see on stage." 
Despite — or, perhaps because of — their unique experiences, the dancers bring to the stage, "an incredibly liberated, ballsy, proud, no shame attitude to their physicality," according to Champion. Champion also writes in the program that she been "enthralled by the movement vocabulary these performers have co-devised that is genuinely custom made to their bodies." 
This combination of being highly aware of the stringent physical standards to which dancers are held and a fascination with the beauty of fuller-figured dancers has clearly produced a unique and beautiful piece of art. 
But because of the stigmatized nature of larger bodies in society, Champion understands that preconceived notions and prejudice may be projected onto the work. "With this show I am not aiming to promote or dispel a health message, nor am I being driven by the political debate around body size," Champion wrote. "Having said that I have nonetheless come to understand that simply putting a fat body on stage, in some people's opinions, is a political statement in itself."
Ultimately, Nothing to Lose promises to be not only an inspirational theater-going experience, but one that will also ideally disrupt the status quo and instigate greater change in the field of dance. "I do hope that it makes people think, 'Why haven't we seen this as much before?'" Champion told ArtsHub. Perhaps, thanks to Nothing to Lose, countless others in the dance community and beyond will indeed start to ask the same question.
Nothing to Lose will premiere as part of the 39th annual Sydney Festival on 21-25 January 2015 at Carriageworks followed by a season in Melbourne 11-21 March 2015 at Malthouse Theatre.