Glitter Bomb Your Enemies With the Help of This Perfect Website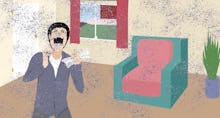 If you really want to screw with your enemies, do it with sparkles. 
That's the premise of Ship Your Enemies Glitter, an expletive-laden website that will send a bag of glitter — mixed in with a loving personal note for maximized spillage — to anyone in the world for the low price of about $8. 
"We fucking hate glitter. People call it the herpes of the craft world," the website says. "Pay us money, provide an address anywhere in the world and we'll send them so much glitter in an envelope that they'll be finding that shit everywhere for weeks."
The beauty of the service is that it's not quite dickish enough to be considered serious harassment, but it's irritating enough to piss off even the biggest pacifist you know. Seriously, have you ever dealt with a bunch of loose glitter? That shit gets everywhere.
 As Elahe Izadi at the Washington Post writes, "It's about the most perfect, passive aggressive way to get back at those who have wronged you."
The website came to prominence on Tuesday after it was posted to reddit and Twitter, where users fawned over its evil genius. The attention caused the website to crash (it's still down as of press time) but the Sydney-based site has also racked up more than 800 orders, according to the Post. 
"We are a real service, we actually do send glitter to your enemies," the site's founder Mathew Carpenter told the Post. "The house [where the orders are filled] looks like it's 1975 and Donna Summer has just hit the stage," he added.
Glitter-bombing has traditionally been the realm of LGBT activists, who target people like Rick Santorum and Mitt Romney for their opposition to same-sex marriage, but Ship Your Enemies Glitter has now moved it beyond the political sphere.  
As anyone who's ever encountered a large amount of the copolymer plastic knows, the stuff is near-impossible to get rid of — making it the perfect object with which to douse one's enemies. The idea, according to Carpenter, came from a desire to get back at a family friend after she kept sending him Christmas cards filled with glitter. 
"She sent a reasonable amount," he told the Post. "My idea came from wanting to send her 10 [times] the amount she had sent me over the years."
He sent her an A4 envelope full of the craft world's Herpes, and, he said, is not expecting anything back. "Happy New Year to her!" he said. 
And Happy New Year to the rest of us, who now have the perfect way to get back at everyone we secretly and not-so-secretly hate. 
Update: Jan. 27, 2015
h/t Slate