Watch This 4-Year-Old Girl Explain What Racism Feels Like In Viral Heartbreaking Video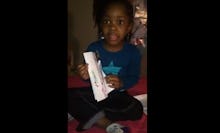 Children are not born racially aware; racism and prejudice are learned behaviors. Unfortunately, some young people are forced to confront its evils sooner rather than later.  
Such was the experience of one mother in St. Louis, who recently had the misfortune of consoling her 4-year-old daughter, who came back home from school crying. But little Londyn James wasn't complaining of a playground bump or a bruise. 
"What's wrong with you? Tell me what's wrong, why are you crying?" Tomeka Fisher asks her child in the video. And Londyn sobs uncontrollably while trying to get the words out. 
"Because they made me sad. ... [The kid] didn't want to be my friend because she doesn't like black people."
Deeply struck by her daughter's grief, Fisher recorded the conversation, which has been viewed nearly 10 million times since it was uploaded to Facebook. "My 4-year-old is crying her heart out, and so am I," she wrote in the post. "I don't know what to do or say." 
The mother told People magazine that she decided to videotape Londyn's reaction to make a point, displaying the raw emotion felt by children across the country after coming face to face with prejudice. 
The video is admittedly disturbing to watch, but it's an important reminder that even in life's earliest moments, racial prejudice is a terrible thing to have to deal with. Knowing that you are being excluded based on a characteristic that cannot change, like skin color, is an ultimate loss of innocence. 
Local news anchor Jeff Cunningham was so moved by Londyn's story, he went home and shared what happened with his daughter Holland, telling People he thought it would be a good teaching tool. Holland drew a picture for Londyn, which was delivered to her daycare. 
Etched in crayon were two little girls of different colors, and the image reads: "Dear London. I will be your friend."
Soon after, Fisher recorded another video, this time with her daughter smiling in appreciation for the surprise gift, which she shared on Cunningham's Facebook page. 
"Thank you for the picture. Thank you for being my friend. Thank you, Holland," Londyn said.
There's no telling where the 4-year-old's classmate learned to behave in such a prejudicial manner, but Londyn's initial reaction shows how how harmful racism truly is. Unfortunately, her family won't be the last one to console a child who has encountered discrimination. But, hopefully, parents everywhere will teach their children that cultural differences aren't to be feared, but celebrated. 
And in celebrating, there's room for budding friendship. 
h/t The Root