President Obama Has a Brilliant New Plan to Make Your Internet Faster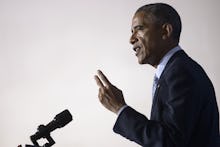 President Barack Obama will unveil plans Wednesday to make Internet access cheaper and connection speeds faster by encouraging local governments to build their own broadband grids. 
"The president is calling to end laws that harm broadband service competition," Jeffrey Zients, director of the White House National Economic Council, said on a conference call with reporters Tuesday. "Broadband is no longer a luxury. It's a necessity."
The president's blueprint is modeled on projects taken up by small cities like Cedar Falls, Iowa, where he is making the announcement as part of a tour to promote initiatives likely to feature in next week's State of the Union address.
The plan: Obama will urge Federal Communications Commission chairman Tom Wheeler to override those laws and open up the market to new competition and lower prices. Despite Republicans' objections, Wheeler has told Congress that he has the authority and intends to use it.
With big telecommunication companies failing in many cases to maintain, upgrade or even build infrastructure outside of major urban centers, public sector innovation has flourished. In doing so, the White House says, it has provided a model for the entire country. But 19 states have passed legislation, often at the behest of lobbyists for firms like Time Warner, Comcast and Verizon, to ban big cities from doing the same.
In going forward with these measures, the White House is taking its first concrete steps to protect "net neutrality," the endangered FCC regulation that prevents major Internet service providers from offering better and faster access to preferred websites or content hubs. The ISPs have argued that those regulations defeat their ability to meet consumer demand and create more competitive products. 
Making his case: Obama, who came out in favor of net neutrality in 2014, has struggled to make a compelling case for it. In this construction, he flips the script, arguing that local governments are better prepared and more inclined to create competition for private providers, who usually enjoy de facto monopolies in major cities, than other private companies. 
"Today, President Obama is announcing a new effort to support local choice in broadband, formally opposing measures that limit the range of options available to communities to spur expanded local broadband infrastructure, including ownership of networks," the White House said in a press release. "As a first step, the administration is filing a letter with the Federal Communications Commission urging it to join this effort by addressing barriers inhibiting local communities from responding to the broadband needs of their citizens. 
What's at stake: In June 2014, comedian John Oliver delivered a memorable explanation of what's at stake in the net neutrality debate and who stands to gain if private ISPs are allowed to pick and choose which content is made most readily available to consumers.
Why now? This is the final leg of Obama's experimental pre-State of the Union promotional campaign, which he will deliver on Jan. 20. Normally, the president hits the road after the big speech to follow up on its proposals and build momentum in the ensuing public debate. But with a Republican Congress officially sweeping into power this month, the White House is, with some success, doing its best to cut off oxygen to the new leadership. Obama has already made waves with historic proposals to make community college free for two years for all qualified students and protect students from having their personal information traded among private companies.
But it is Tuesday's speech and this forthcoming initiative that could have the greatest impact (and chance of working, given its reliance on FCC action and not congressional approval). By working to allow cities around the country to create their own, publicly held online infrastructure, the White House is for the first time taking meaningful action in the fight to build and fortify a more democratized Internet.