#FiveWordsToRuinADate Hilariously Exposes All Our Modern Dating Deal Breakers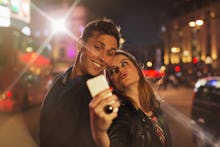 Thank goodness dating deal breakers don't usually function as literal deal breakers.
Because judging by #FiveWordsToRuinADate, the trending hashtag delighting Twitter, if we took all our deal breakers to heart, we'd never date anyone, ever. The hashtag, which started powering Tuesday night (and was quickly latched onto by brands), has prompted an outpouring of collective dating catharsis, revealing all the things we don't want from the people we date.
And there are many things that turn us off.
From questionable cultural tastes:
To bad fashion sense:
To unpopular political views:
To a total disregard for social cues:
To fitness obsessions:
To troubling food preferences:
To seriously obnoxious behaviors:
Some of the deal breakers are legit (definitely don't keep going out with someone who tells you you looked better on Tinder); some are ideals that it's probably not worth sticking to (maybe don't write off all Android users?). 
The point is, it's all subjective — plus, science has shown that we often disregard deal breakers when we're faced with them in real dating situations. 
Which might be an excellent thing. Because it comes down to it, deal breakers are never truly deal breakers: