Bonnaroo Is Still the Best Music Festival — Just Check Out the 2015 Lineup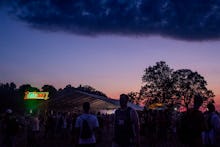 This is the 14th year of Bonnaroo. That's 14 years as the best summer music festival. And now we know that 2015 will be no different.
This year's lineup is legendary. It runs the gamut of genres, featuring headliners Billy Joel, Kenrick Lamar, Deadmau5 and Mumford & Sons. Bonnaroo has opened its arms wide, welcoming folkies, ravers and hip-hoppers alike to the farm.
With acts like Hozier, My Morning Jacket, Childish Gambino, Freddie Gibbs & Madlib, Bleachers, Phox and Ryn Weaver, Bonnaroo has found a way to blend classics and newcomers across all genres. Some of the most exciting acts this year are already on the list at festivals like Governor's Ball and Coachella, including Florence and the Machine, Alabama Shakes, Spoon and Atmosphere. There's almost no overlap with last year's lineup, so everyone has something new to look forward to.
Though the festival itself is committed solely to good music and good vibes, it changed things up with the lineup announcement this year. Last night, instead of announcing the artists all at once, fans called a hotline at 1-844-ROO-2015 to learn the name of an artist, which the fan would then share on social media with the hashtag #bonnaroo. The fest's website showed a feed of gradual announcements until the lineup was completed and then officially released. 
Bonnaroo is in Manchester, Tennessee, and runs June 11-14. More acts will be announced as the shows near, and tickets go on sale this Saturday. It's time to go back to the farm.