Donald Glover Is Leading a Hip-Hop Revolution. This Performance Is Exactly Why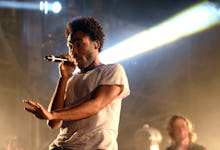 It used to be that rapper Childish Gambino was only known as famed comedian Donald Glover. For awhile, he was actually mocked for his rap aspirations. But since the release of his album, because the internet, last year, Gambino has been on a tear. Now, with Grammy nominations for Best Rap Album and Best Rap Performance under his belt, the world finally realizes that he's an innovative songwriter and a supremely clever lyricist.
But last night on Jimmy Kimmel Live, he revealed the best evidence yet that he's the most exciting name in hip-hop right now: He has one of the best live rap performances out there today.
In a genre notorious for pre-recorded loops and dull live performances, Glover is committed to a fiercely dynamic performance. His band's performances of "Sober" and "3005" showcased levels of ingenuity and style matched only by the legendary Roots crew.
Most hip-hop acts rarely try to add variation and improvisation to their sets. The focus is squarely on a rapper's flows. This is a great recipe for really flat live performances, which have caused some to argue that "Live Hip-Hop is Dead." But Gambino's band plays amazingly, and he is a charismatic and fiercely energetic performer.
Glover's drummer alters his accents and patterns, creating a totally different beat from the record. His guitarist and keyboardists add in their own stylistic flairs while nailing all the harmonies. The band even adds new compositional elements to their performances, including altered breakdowns and extended guitar solos, which Gambino mimics with his voice. At the end of "3005," his drummer breaks into a new double time section that drives the song home in a big way. It does everything a live performance should.