The New Maroon 5 Video Might Make You Actually Like Maroon 5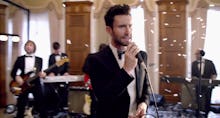 Everybody knows that Adam Levine is a douchebag. Even though he explicitly told GQ that he's not a douchebag, everyone knows he is. They know this because of his creepy music videos. They know this because his new year's resolution was once "be more awesome."
And yet even the staunchest Adam Levine haters will have to admit that Maroon 5's video for "Sugar," directed by the man behind Wedding Crashers, is insanely charming. They will have to admit that "Sugar" is one of the catchiest songs of the year. They will have to like Adam Levine, because this music video is an undeniably good time.
Wedding Crashers director David Dobkin imported some of Vince Vaughn and Owen Wilson's charm for Maroon 5's latest. The band drives across L.A. in mid-December, showing up to weddings and performing their ridiculously catchy new song, much to the joy of almost-married people across the Golden State.
The video is a wise move for the band after their last video, "Animals," took heat from nearly everyone for being creepy and twisted. "Animals" showed Adam Levine stalking his real-life wife, Behati Prinsloo. After she rejects him, they end up together, covered in blood. The implied takeaway is that Levine imagined the whole thing. But the video is very unfortunately real.
Yet the "Sugar" song and video show Maroon 5 doing what Maroon 5 does best — having an uncomplicated good time. Levine's signature falsetto (versus his imagined stalking) takes center stage over a tight California groove, and it works perfectly. It's not exactly complex musicianship, but it makes for a shiny, catchy tune that you can't help but dance along to — and it offers a bit of sunshine in the middle of winter. You win, Levine.
h/t Rolling Stone