The FBI Just Arrested a Man Over an ISIS-Inspired Plot to Bomb the U.S. Capitol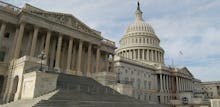 The FBI arrested Ohio man Christopher Lee Cornell, also known as Raheel Mahrus Ubaydah, Wednesday for conspiring to detonate pipe bombs inside the U.S. Capitol and then launch a shooting spree upon survivors. Members of Congress were apparently targets.
ABC News reports that the FBI "first noticed" Cornell after he posted Tweets supporting "violent 'jihad'" and further investigation revealed his intent to attack the Capitol. The FBI reports that Cornell was inspired by the ideology of Islamic State, the fundamentalist Islamic guerilla group that has taken over large stretches of Iraq and Syria and contributed to the estimated death toll of at least 91,000 people in those two countries in 2014.
The U.S. Department of Justice released the following statement on the arrest:
However, it is possible Cornell wasn't as big of a threat as some might believe. For his part, Fox News' Chad Pergram reports that Cornell's plot was "aspirational" and had not reached a stage where it posed a threat to Congress or the general public.
Whether or not there was a credible threat to the U.S., the FBI seems to have taken the investigation very seriously and issued a warning that further Islamic State-linked plots could be on the horizon.
"The alleged activities of Cornell highlight the continued interest of US-based violent extremists to support designated foreign terrorist oganizations overseas, such as ISIL, by committing terrorist acts in the United States," read an FBI bulletin obtained by ABC. "Terrorist group members and supporters will almost certainly continue to use social media platforms to disseminate English language violent extremist messages."