This Rapper's Heartbreaking Acoustic Song Is the Perfect Response to Ferguson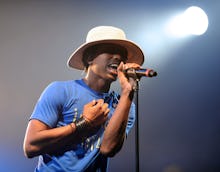 After a grand jury decided not to indict Officer Darren Wilson for the death of unarmed Ferguson teenager Mike Brown, people across the country had a variety of responses, and many people were at a loss for words. But one of those people was not 18-year-old Atlanta-based rapper Raury.
On Wednesday, Raury released "Fly," a tender acoustic track that he says he composed "instantly" after the grand jury decision, writing on his tumblr, "I wrote it instantly the words and music didn't even feel like mine. I knew that this track belonged to the universe."
Take a listen below:
The song is a bittersweet rumination on the wrongfully murdered, in which Raury sounds simultaneously angry, sad, helpless, fearful and hopeful. 
Raury is displaying the same convention-defying musical chops that landed him on Complex's "25 Rappers to Watch Out For in 2014" list. The light acoustic guitar throughout the song leaves openings for Raury's simple and straightforward lyrics to really sink in, while the chorus' high-flying crescendo, "I hope you fly," is both an indictment of America today and an aspiration for future generations.
It also has bite. Throughout the song, Raury has some harsh words for the perpetrators of systemic racism:
"I'm afraid I'll die/And you can look at me and never wonder why/Because I'm brown and young and my/Hair it is nappy"
"So I won't ever understand/How triggers pull against a man with empty hands/Cause we can kill the innocent/You are a killer"
The lyrics are simple and poetic, but also clearly call out the actions of racist police officers and the problems black people in America face everyday.
The track is capped by a spoken-word poem Raury's friend Malik Shakur wrote, reflecting his hopes and fears for the future of America. It says, among other things:
I hope my son dreams to be mountains
Shakur later tweeted about his experience writing the powerful poem:
At its core, the song is fundamentally optimistic. Ruary writes that "Deep in my heart I know everything is going to be alright." Even if recent events have given us a lot to fret over, hopefully he's right. Either way, it's a powerful song that's come around right when America needed it most. 
h/t the Fader