51 Years Later, Leonard Bernstein's Comments on Violence Are More Relevant Than Ever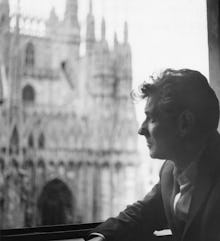 On Nov. 22, 1963, when composer, conductor and musical luminary Leonard Bernstein heard that President John F. Kennedy had been assassinated in Dallas, the news shook him to his core. Kennedy had been a champion of the arts and a dear friend to Bernstein. So when he received an invitation to conduct a televised tribute concert in Kennedy's memory, he knew he couldn't celebrate him in any conventional way.
His words, as NPR points out, could not be more resonant today as we look for ways to heal after the mass shootings in Paris and Nigeria's less-publicized endemic violence. They are a profound meditation for our troubling times:
Bernstein truly believed that music was one of the most effective means of creating understanding and peace in the world. By nurturing music and the arts, he said, we can actualize a world "in which the mind will have triumphed over violence." That day, Bernstein honored his president and friend by choosing to celebrate life instead of death, selecting Gustav Mahler's vivifying "Resurrection" Symphony over any traditional funeral march or requiem. The next day, he gave a speech to explain his unorthodox choice. Those were his immortal words. As always, music was a force for life in the face of death, for order in the face of anarchy. 
His philosophy is absolutely essential today. Bernstein worked tirelessly to show audiences the truth of his faith throughout his career. A fervent supporter of music education, he believed that "[o]nly a society prepared by education can ever be truly a cultured society." In a essay published in the New York Times, he argued that economic disadvantages and unequal access to education were the only impediments keeping black musicians from participating in the classical musical community, tearing down the common notion that skin color was a determining factor in people's intelligence and ability to enjoy "sophisticated" music. He wove political and social critiques like these throughout his works, tackling racism and socioeconomic inequality with West Side Story and ridiculing the political incompetence of McCarthyism in Candide.
He believed Kennedy shared his "reverence for the life of the mind," and Bernstein used music that day to try to breathe new life into the mission. "We played the Mahler symphony not only in terms of resurrection for the soul of one we love, but also for the resurrection of hope in all of us who mourn him," he said in his memorial speech. "In spite of our shock, our shame and our despair at the diminution of man that follows from this death, we must somehow gather strength for the increase of man, strength to go on striving for those goals he cherished."
The power of Bernstein's statements and music moved a nation, so much so that Mahler has since become a national musical symbol of mourning. Mahler's symphonies were played at Robert F. Kennedy's funeral five years later and again on the occasion of President Dwight D. Eisenhower's death in 1969. More recently, on the 10th anniversary of 9/11 in September 2011, Alan Gilbert led the New York Philharmonic through Mahler's Second Symphony at New York's Lincoln Center.
We need that faith in music and the human spirit right now. Facing the tragedies of the present, visionaries have also turned to music to help the world recover. Last week, to honor the victims of the mass shootings in Charlie Hebdo, 150 musicians staged an impromptu concert in London, performing Samuel Barber's "Adagio for Strings" in the open air. That same night in New York, Gilbert introduced a performance of Verdi's "Requiem" by quoting Bernstein's JFK speech, dedicating the orchestra's first concert of the year to the "memory of the victims" and "the fundamental principle of freedom of speech."
All these musicians truly acted on Bernstein's immortal words, responding to violence by creating "more intensely, more beautifully, more devotedly than ever before." There really is no better way to look past humanity's destructive tendencies and see the creative potential that lies beyond than a undimmed celebration of the uplifting power of music.
h/t NPR