One Tweet Perfectly Sums Up Everything Wrong With the Oscar Nominations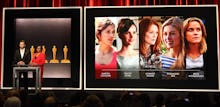 In a matter of minutes, Hollywood reminded all us of who really runs the show: white people, but especially white men. 
The 2015 Oscar nominations were revealed this morning, and they were a big disappointment in terms of diversity. Every single actor and actress nominated in the Best Acting categories are white; no female directors, screenwriters or cinematographers were nominated, either. This is particularly frustrating given that Selma was nominated for Best Picture, but Ava DuVernay was not nominated for Best Director. 
The list – coincidentally announced on Martin Luther King Jr.'s birthday — serves as yet another reminder of the lack of social progress in America.
One tweet sums up why the nominations are so vanilla:
These statistics, taken from a 2012 Los Angeles Times report on voters in the academy, pretty much speak for themselves. The Academy's 15 categories have memberships that are 90% white, but there are a handful of categories, the LA Times states, that are almost comprised exclusively of white male voters: "Caucasians currently make up 90% or more of every academy branch except actors, whose roster is 88% white. The academy's executive branch is 98% white, as is its writers branch."
"Blacks are about 2% of the academy," the LA Times found, "and Latinos are less than 2%." 
The whiteness is blinding. While the current academy president is a black woman, Cheryl Boone Isaacs, it's impossible to hide the reality of her peers. In that regard, as the tweet implies, is it really any wonder that old white men overwhelmingly nominate white people and men? 
Of course, last year's Oscars celebrated Best Picture winner 12 Years a Slave and Best Actress in a Supporting Role Lupita Nyong'o. But that makes this year's nominations feel regressive. And social media is fed up.
The Academy nominates "what they know." Think about it: The cultural reference points for a 62-year-old white man are going to be different than a 23-year-old Haitian queer woman. Furthermore, with the average Oscar campaign costing $10 million, there's a built-in bias when it comes to the types of movies that are being brought to voters' consideration in the first place. Independent films created by women and minorities just don't stand a chance.
And they nominate what serves their interests: In a scathing critique of the Academy, Al Jazeera's Khaled A Beydoun argued that the minority actors who earn nominations are those who are in films that serve white interests and "converge with white sensibilities." Citing directors DuVernay and Spike Lee, he writes, "representations of blackness that defy racial stereotypes and challenge societal discrimination are almost never awarded, and seldom nominated." 
That's why there has been a dearth of women and minorities nominated for Oscars. When Nyong'o won for Best Supporting Actress last year, she joined just five other black women who had won this award in the past 86 years: Octavia Spencer for The Help in 2011, Mo'Nique for Precious in 2009, Jennifer Hudson for Dreamgirls in 2006, Whoopi Goldberg for Ghost in 1990 and Hattie MacDaniel for Gone With the Wind in 1939. 
Halle Berry is the first and only black woman to win Best Actress, for Monster's Ball in 2001.
This isn't about a lack of talent. Last week, the Golden Globes showcased a much more diverse lineup, both in terms of subject matter and actors. Perhaps this is because Golden Globes voters are more diverse themselves, or perhaps it's because television is getting wise to the fact that both audiences and critics appreciate accurate representation.
Hollywood needs to do better or risk being left behind.
Correction: Jan. 15, 2015