What the Media's Fascination With Bruce Jenner's Gender Says About Society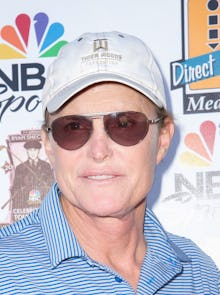 Newsflash: Poorly photoshopping Bruce Jenner's face on a woman's body isn't a creative way to sell magazines. In fact, it's more than uncreative: It's transphobic. 
The latest issue of InTouch Weekly features what appears to be a doctored photo of the reality TV star above the caption "My Life as a Woman" in an attempt to leverage shock value for profit. Not only is this cover out of touch and irresponsible, it highlights a much bigger problem with the way celebrity and tabloid media in particular has been talking about Jenner — and getting away with it.
This isn't the first time Jenner has come under scrutiny. Speculation that the former Olympian is transgender has been a trendy topic ever since his separation from ex-wife Kris Jenner became public. In December 2013, reports surfaced that Jenner surgically had his Adam's apple shaved down, and he has since been photographed sporting nail polish and longer locks, further fueling rumors about his gender.
Unsurprisingly, tabloids have glommed onto this story and run with it. 
Tabloid journalism is in the business of getting clicks, no matter the cost. But publicly and unrelentingly scrutinizing a person's gender identity not only doesn't make for good journalism, it doesn't make for good entertainment either. Whether featured in the paper of record or the aisles of your local supermarket, this behavior is cruel and socially irresponsible. 
Even if Jenner is transgender, coming out should happen on his terms and his timetable. As the Daily Beast's Samantha Allen said, "Outing transgender people before they're ready to come out can have deleterious consequences for their health, their careers and their relationships — yes, even for celebrities."
These tabloids should be ashamed — although they almost certainly don't care. Jenner's mistreatment at the hands of celebrity media has sparked outrage among the LGBT community and its allies, and rightfully so. As GLAAD president and CEO Sarah Kate Ellis said in a press release Wednesday, "This nonsense has to end. Speculating about a person's gender identity only inflames the invasive and gross scrutiny that transgender people face every day at school, at work or even when just walking down the street. It's long past time that media outlets stop gossiping about Bruce Jenner's gender."
Gossip magazines should take a cue from Hollywood, which is increasingly embracing trans issues and people. 2014 was, after all, the year of Laverne Cox, Janet Mock and Transparent, which just took home two Golden Globes. 
Bottom line: It's time to celebrate gender diversity and self-expression, both inside and out of Hollywood. Gender identity, long low-hanging fruit for crass comedians and an unscrupulous press, is generally understood today as nobody's business, and certainly not entertainment. Why should Jenner's be any different? Everyone deserves respect — even a reality star.