Here Are the Best Films of 2014 That You Won't See at the Oscars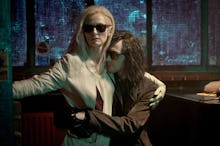 Let's take a moment to just forget the Oscars and recognize the movies that would have never made it to the academy anyway: indie flicks and obscure foreign films.
The genres explore everything from nontraditional aesthetics to experimental story lines, mashups that often result in cinematic masterwork. They're quirky, they're dark, they're humorous and they're grisly. And at the end of the day, they're totally worth watching.
The 2014 Oscar nominations may have disappointed us, and a slew of indie flicks have largely gone unnoticed. Check out these films that you might have missed this past year. They shone away from the spotlight, but they're still a fantastic watch. 
A Girl Walks Home Alone at Night
Dubbed the "first Iranian Vampire Western ever made," the flick draws on various filming styles and genre influences to deliver the chilling tale of a lady vamp thirsty for blood. There's also a romantic element to the black-and-white, but this isn't your usual Twilight storyline. 
The Guest
What starts off as the possible beginning to a bad Nicholas Sparks movie descends into a dark thriller that will keep viewers on the edge of their seat. David Collins unexpectedly visits the home of Caleb Peterson and claims to have been a friend of Caleb's before he died in the war in Afghanistan. But his true intentions begin to come out after he's invited to stay with the family for as long as he needs to. 
Under the Skin
While most movie-goers are used to seeing Scarlett Johansson as the Black Widow, they should check out her role as an alien seductress who preys on men in Scotland. Yes, it's sci-fi, but this isn't your average extraterrestrial blockbuster. Instead, Under the Skin has received accolades for its underlying haunting message about the nature of humanity. 
We Are the Best!
Ah, the youth! Based off a Swedish graphic novel whose name translates to Never Goodnight, We Are the Best! follows a trio of 13-year-old misfits growing up during the '80s in Stockholm. The main characters form an all-girl punk band, but the heart of the movie is about not fitting in — and that being totally OK. 
Memphis
Memphis follows a talented singer as he drifts through Memphis, Tennessee, with all the sorts of people that inhabit the city. It draws on elements of folklore, music and surrealism to bring together a dazing and dazzling movie about self-discovery. 
Only Lovers Left Alive
Yes, another vampire movie has made this list. But this one stars cult favorites Tilda Swinton and Tom Hiddleston as centuries-old lovers trying to figure out their place in modern society (in Detroit, of all places). You thought a 40-year anniversary was a big deal: Try a couple hundred.
Force Majeure
When a controlled avalanche strikes panic at a luxury resort in the French Alps, fissures erupt within a family after one member's reaction to the avalanche puts the rest of them in danger. Force Majeure explores what it means to take care of kin and how to fix things after conflict. 
All Cheerleaders Die
When four cheerleaders die in a car accident, the school's resident witch brings them back using dark magic. Everything seems fine, until it turns out that the resurrected bombshells need to drain the life force of men to stay satiated. It's a fun, supernatural teen movie that's totally aware of its campy nature. 
Mommy 
Mommy is presented in an unusual 1:1 aspect ratio, similar to video content on Instagram or when you vertically film something on a smartphone. The unconventional aesthetic helps tell the story about a single mother and her tyrannical teenage son when a neighbor starts to aid the situation.
Stranger by the Lake
A beautiful lake, gay sex and a murder mystery: What's not to love about Stranger by the Lake? When a death occurs at a popular cruising site, two men become the primary suspects. The movie erotically discusses what might happen when love and attraction cloud judgment. 
The lesser-known movies have a lot of character to them, and just because they aren't deemed worthy by the academy doesn't mean they don't win awards in our books.