Watch a Handcuffed Florida Teen Save the Life of the Cop Who Just Arrested Him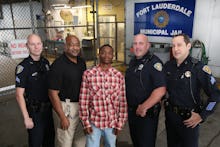 Police officers in Fort Lauderdale, Florida, are honoring a teenager who helped save the life of the officer who arrested him.
CCTV footage shows 17-year-old Jamal Rutledge being booked at a police station when the officer processing his case, Franklin Foulks, suddenly collapses from a heart attack. Rutledge, still in handcuffs, began shouting and kicking a security door to alert other officers.
As Rutledge yelled for help, two officers ran into the processing area and began administering CPR. Firefighters were called and rushed Foulks to the hospital
"Doctors say had it not been for the teen's yelling — and the quick work of the police officers — Foulks could have died," the Associated Press reports.
Rutledge was reportedly in jail for a probation violation after being arrested for burglary and criminal mischief several times.