Lana Del Rey Had the Best Film Song of the Year — But You Won't See Her at the Oscars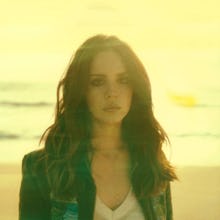 Lana Del Rey may have had the best year of her career. She released Ultraviolence, her boldest and most definitive artistic statement yet, in June of 2014. She didn't stop there, though: She lent her songwriting to three masterful original movie songs this year — "Big Eyes," "I Can Fly" and "Once Upon a Dream" — each one more brilliant than the last. 
But when the Academy Award nominations were announced on Thursday, her name was nowhere to be found. Her song, "Big Eyes," was expected to be an Oscar front-runner; instead, it was completely ignored. It isn't just a snub, though: It's part of a long pattern of neglect towards the singer from the academy. Nobody released more or better original songs for films in 2014 than Del Rey. For the second year in a row, she's been favored to win. For the second year in a row, she hasn't been nominated. And some say there's foul play afoot.
At last year's Oscars, Del Rey was expected to nab a nomination for "Young and Beautiful," her brilliant ode to Baz Luhrmann's adaptation of The Great Gatsby. Many were shocked when the song didn't even receive a nomination, but Deadline found a strange, deeper story. 
They discovered that an anonymous person had sent an envelope to the academy with a forged Variety article claiming that Del Rey's song had been removed from the ballot due to a technicality. As it turned out, the song was Oscar-eligible, but it was too late to include Del Rey's song on the ballot. Someone had deliberately sabotaged her bid. 
This time around, it seemed like she'd finally get her due. Del Rey wrote and recorded not one but three excellent songs. She wrote "Big Eyes" and "I Can Fly" for Tim Burton's Big Eyes after being asked by Harvey Weinstein himself. The songs, eerie and emotional, sound like they could be torn straight from the singer's discography, yet they still ably supplement the film's score. In an interview with the Los Angeles Times, Del Rey said she's always been a big fan of Tim Burton, and it makes perfect sense — both have a morbid but hypnotizing aesthetic. His latest film was an opportunity to show off adapting her music to movies in a smart, meaningful way, and she did just that. Yet the academy continues to fail to notice.
Del Rey's "Once Upon a Dream" from the Angelina Jolie-starring Maleficent was also overlooked. Most predictions didn't consider the song a front-runner for a nomination, but they should have. Del Rey took a song straight out of Disney's classic 1959 animated movie and made it as grim as it was Grimm. At least Maleficent received one nomination, for costume design — Big Eyes was snubbed in every category. 
Whatever beef the awards world has with Del Rey, it doesn't stop at movies. This year, the Grammys ignored Ultraviolence too — undeniably her best. The record didn't get a single nod, with the exception of a production credit on the song "Money Power Glory." 
Luckily, Del Rey is undeterred. She's working on her third album, Honeymoon, due out August. Maybe next year the Grammys board will know a good album when they see it.