One of the Greatest Folk Singers Wrote This Song on 9/11. It Was Never Released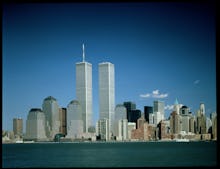 When indie folk songwriter Jason Molina passed away in 2013, the music world shook with grief. In the period that followed, musicians released a tribute album covering his slow-burn American folk ballads, while his label released the elegiac box set Journey On. But through all of the retrospectives, one song was never turned up until now.
On Wednesday, a Molina recording surfaced that nobody had heard before. "September 11" is some of Molina's last unheard music. He recorded it on Sept. 11, 2001, in a farmhouse in Kentucky after hearing about the events of the day.
He collaborated with indie rock royalty Will Oldham, best known as Bonnie Prince Billie, Paul Oldham and Alasdair Roberts. Along with the song, the record label Secretly Canadian posted a note from Roberts about the songwriting experience.
According to them, it came about because of a "spontaneous response from Jason's soul to the unimaginably terrible events of that day." The song begins with Molina singing, "That's all / That's all / Look what it got us / Let's all look what it got us / We're in the pre-world dark again / We're in pre-world dark again / We can hear them ringing rescue bells / We can hear them ringing the rescue bells / It's like a tempest / Hear the bells / Then nothing."
It's a fitting attempt at a tribute to the day and a beautiful way to remember Molina's power. His work is characteristically dark, addressing matters of life and death. Before his alcohol-related death in 2013 at age 39, Molina released a staggering number of records: 19 LPs in just 15 years. Each one was a powerful study of the human condition in its own right.
While he never saw commercial success, he had a dedicated following and paved the way for bands like Bon Iver, Dinosaur Jr. and Phosphorescent. "September 11" is a powerful and unexpected posthumous release from Molina, but more importantly, it's a chance for remembrance — a visceral reminder of what it felt like to be alive in America that day.